Healthy, delicious, and versatile – it's no wonder that seafood is a favourite food for many people. Eating fish and shellfish can be a great way to broaden your culinary horizons and better connect with our seas, as long as you do it in a sustainable way.
As on land, the quality and availability of seafood is tied to the health of the environment. Fishing can have a significant impact on our waters, but several different factors combine to determine how large that impact is. From the time and location, to the target species, to the equipment used.
Unfortunately demand for local species is low in the UK - over half of what we catch is sent abroad while around 80% of what we eat is imported. What's more, the markets we export to often place less emphasis on sustainability. This all means that suppliers in our region have fewer opportunities to support low-impact fishing.
To tackle this, we're partnering with Hampshire Fare to champion local sustainable seafood from wave to plate. Our new joint campaign, Great Solent Seafood, aims to help us all enjoy fantastic food while reducing its impact on our waters.
Interested in other ways to care for our marine environment? This campaign is part of our marine project Secrets of the Solent, which is celebrating our seas through art, cuisine, citizen science, and more.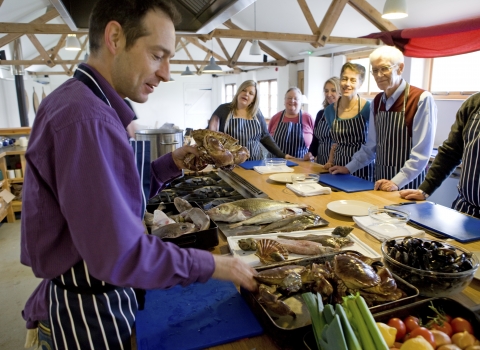 Join our supplier scheme
We're looking for businesses from all parts of the local seafood supply chain to join us. We'll work with you to set attainable goals, support you in achieving them, and promote your efforts through our campaign.
Whether you're a fisherman exploring low impact gear, a fishmonger looking to inform your customers, or a restaurant keen to stock local produce, we'd love to hear from you.
Share your thoughts
Do you live near the Solent? If you have ten minutes to spare we'd love to hear about your seafood preferences. The thoughts you share with us will help to shape future project activity.
Other marine activities
Great Solent Seafood is just one of the ways to explore and support our amazing marine wildlife. If you love our underwater world and want to see it thrive, check out these other ways to give it a bright future.
Learn about other small changes you can make that have a big impact on the marine environment with our Wilder Solent campaign.
Discover the amazing people and wildlife that share our waters through art, citizen science, and more with our project Secrets of the Solent.