Marine Conservation Zones
Marine Conservation Zones are a kind of Marine Protected Area, which is an area managed in a particular way in order to safeguard its special wildlife and habitats. This doesn't mean that they're no-go areas, but rather that activities like yachting and fishing must take place in a sustainable and responsible way in order to allow nature to thrive.
We've been involved in the process of designating Marine Conservation Zones since it began in 2009, as part of our drive for living seas. The government has now designated 91 in total around the coasts of England and Northern Ireland, three of which are in our region: The Needles (designated in 2016), Yarmouth to Cowes, and Bembridge (both designated in 2019).
There is still a lot of work to do, as Marine Conservation Zones require good management in order to be truly effective and there are other important sites that need protection. We'll be continuing to push for more protected areas, and management plans that give our marine wildlife the best possible chance to flourish.
We're so proud of our amazing local marine environment, and are always looking for ways to celebrate and protect it. If you'd like to join us, check out our exciting project Secrets of the Solent, which is showcasing our marine wildlife through art, seafood, citizen science, and more.
Highly Protected Marine Areas
Between June and December 2019, the government undertook a review on introducing Highly Protected Marine Areas in UK waters. These spaces would have stronger protections than Marine Conservation Zones, and could provide valuable insights into the impact of human activities on marine wildlife . An independent panel, which includes Joan Edwards of the Wildlife Trusts, has been tasked with assessing whether the zones could be implemented and how they might be managed. A date for the resulting report has not yet been released.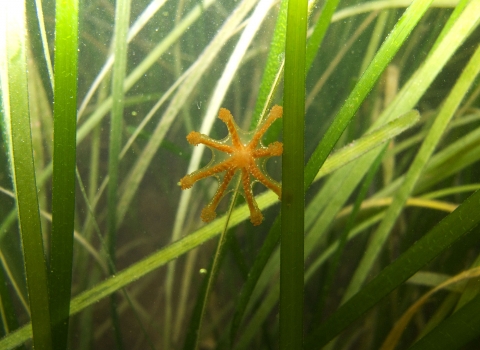 Bembridge MCZ
This Marine Conservation Zone has been described as the "jewel" in the network, as it has more species and habitats eligible for protection than any other. Its shallow waters host seagrass beds, which provide a habitat for species like cuttlefish, stalked jellyfish, and seahorses, as well as many commercially important species. At this depth you can also find rocky ledges, which make the ideal habitat for the nationally rare peacock's tail seaweed.
Further offshore there is deep water muddy sediment, where spoon worms dig burrows and use their long, tube-like mouthparts to feed from the surface. It is also the site of our region's only known maerl beds - this pink, stony algae forms incredibly diverse living reefs, offering habitat to many other species.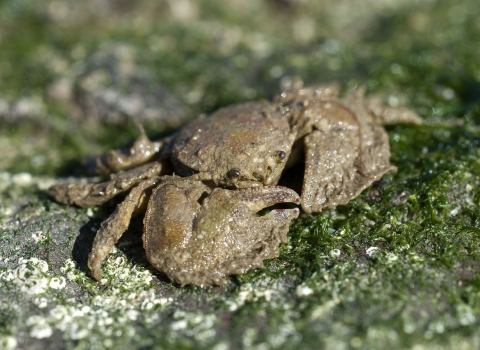 Yarmouth to Cowes MCZ
This Marine Conservation Zone harbours diverse, fascinating species and habitats. At Bouldnor you can find a nine-metre tall underwater peat cliff, which dates back 8,000 years and contains archaeology from the time before the Solent was flooded by rising sea levels. Newtown Harbour is one of only a few places in our region that has estuarine rocky habitat - a rare feature that provides a home to many important species.
Along the coast at Thorness, seaweed-covered limestone rocks support a secret underboulder community of sea squirts, sponges, and small crustaceans like porcelain crabs. Low tide at this site also reveals exposed ledges of soft clay riddled with the burrows of piddocks; molluscs that use the rough, serrated edges of their shells to dig the holes in which they spend their lives.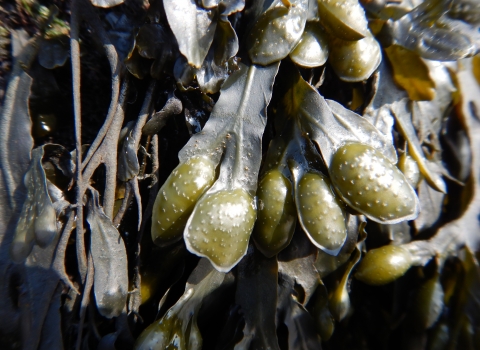 The Needles MCZ
Inshore around Alum Bay and the Needles, the seabed is predominantly made up of chalk reefs with deep gullies, and is rich in seaweeds. In Totland and Colwell Bays, the seabed is largely sandy and supports seagrass meadows, which in turn host breeding colonies of sea hares – a type of marine slug.
This site contains one of only a few records of the stalked jellyfish in this region. It is also one of only a handful of locations where peacock's tail seaweed can be found – a brown alga that prefers warm water and is thought to be restricted in this country to Devon, Dorset and the Isle of Wight.
This area is an important site for black-headed gulls, cormorants and other seabirds which come to forage for food.
Recommended Marine Conservation Zones
We originally had an additional two sites under consideration to receive Marine Conservation Zone status: Fareham Creek and Norris to Ryde. We were disappointed when they were ultimately unsuccessful, and continue to pursue better protections for these hugely important sites. Both hold immense value for our wildlife, including many vulnerable species, and it's vital that we do all we can to safeguard them.
Norris to Ryde boasts one of the largest seagrass meadows in the south-east, which provides important nursery areas for juvenile fish and crustaceans, and a major food source for overwintering wildfowl. Further offshore, large expanses of subtidal mud represent a hotspot for the mantis shrimp - these fascinating animals ambush their prey at the speed of a bullet with their spear-like claws.
Fareham Creek provides protection for the endangered native oyster, as well as the many other mollusc and fish species that find shelter in the saltmarshes and muddy gravel. The Solent used to have one of the largest natural populations of native oysters in the country, but over the years populations have declined due factors like disease, predation, and overfishing.
Learn more about our marine world