Watercress & Winterbournes

A new £3.6m project celebrating and protecting the headwaters of the Test and Itchen rivers is being supported by the National Lottery Heritage Fund.
The Test and Itchen rivers rise from the chalk of the Hampshire Downs, and define a unique landscape with distinctive chalk stream habitats and winterbournes (streams which dry up in the summer and reappear during wetter winter months). These are internationally important and home to a rich diversity of wildlife, including otter, water vole, kingfisher, water shrew and white-clawed crayfish.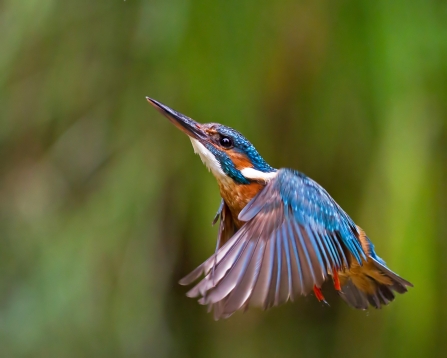 As well as this, the headwaters support a range of heritage industries, villages and their communities. The area is renowned for its fly-fishing, is central to the UK's watercress industry and its water mills have supported industries such as the production of paper, corn, silk, and even gin.
However the landscape is at risk from pollution, drought and flooding, invasive species, and our built heritage is falling into disrepair.
A new partnership project, Watercress & Winterbournes, aims to address these issues by together a partnership of communities, organisations, businesses and individuals. Together we will all be working to protect and improve the headwater streams that are the lifeblood of our chalk rivers.
Resources and further information

Watercress & Winterbournes Overview

Watercress & Winterbournes LP summary
Working with communities

Partners in this new project will work with seven communities on headwater streams – the Pillhill Brook, Upper Anton, Bourne Rivulet, Upper Test, Candover Brook, River Arle and Cheriton Stream - to develop and put in place plans to protect the rivers in the area. Working with seven local communities, the early plans include:

Restoring wildlife habitats and historic structures along the river, improving access and raising water quality
Celebrating our heritage through an education programme for schools, sharing walking routes, and a conservation programme for our native crayfish
Showing how people can take action to improve our headwaters, including improving water efficiency, switching to eco-friendly products, and raising awareness of the problem of non-native species
Training and skills development for communities, landowners, and people who volunteer as 'River Keepers' to effectively manage  stretches of the river.

© Linda Pitkin - 2020Vision
More information about the partners and funder

The project will be co-ordinated by Hampshire & Isle of Wight Wildlife Trust on behalf of a partnership of sixteen organisations:

Cheriton Parish Council, Country Landowners Association, Environment Agency, Hampshire Buildings Preservation Trust and Whitchurch Silk Mill, Hampshire County Council, NFU Watercress Growers Association, Natural England, Portsmouth Water, Salmon and Trout Conservation UK, South Downs National Park Authority, Southern Water, Test and Itchen Association, Watercress Growers Association / Vitacress, Wessex Chalk Streams and River Trust and Wild Trout Trust.

The National Lottery Heritage Fund operates a two-stage process with initial support being given at round one, allowing a project to progress with and develop its plans. At this stage, development funding is usually awarded. The applicant then submits a further, fully-developed application at round two, when a final decision is made by the Fund on the full award.