Watercress and Winterbournes

The Rivers Test and Itchen are iconic features of the Hampshire landscape, but the chalk streams that give them life are some of the greatest hidden treasures in the county. These beautiful waters go by many names in our area, from brooks and rivulets to sources and headwaters. Those that only flow during the wet winter months have another name again: these are known as winterbournes.
With only around 200 existing worldwide, and most of those in England, chalk streams provide an ecologically rare home for a whole host of wonderful wildlife. Here in Hampshire their cool, oxygenated, alkaline waters provide a uniquely perfect habitat for species like water voles, brown trout, southern damselflies, water crowfoot, and endangered white-clawed crayfish.
Our streams also have another story to tell: that of a landscape shaped by centuries of human activity. Adjacent fields are marked with strange patterns from old water meadows, while mysterious riverside structures speak of trades ranging from gin distilling to paper production. Today many of these historic industries continue, with our area being famous for watercress growing and fly fishing.
Working in partnership with local communities and 14 organisations, we want to tell the stories of this vibrant past and build a future to be proud of. Our Landscape Partnership Scheme, Watercress and Winterbournes, has been laying the foundations for this, and we'd like to thank the National Lottery Heritage Fund for their generous support of our work so far.
Our funding application
In December 2019 the partnership submitted our application for further funding from the National Lottery Heritage Fund - we'll share news of the decision in April 2020. If we're successful this funding will allow us to run the scheme until 2025.
Over five exciting years we'll improve habitats, protect vulnerable species, and address key pressures like pollution and flooding. We'll celebrate the ways in which our chalk streams have inspired people past and present, and raise awareness about the incredible wildlife that calls them home.
You can now read our Landscape Conservation Action Plan, which outlines our work so far and our aims for the future. It includes a look at the value of our chalk streams, they pressures they face, and the projects we're proposing to protect them.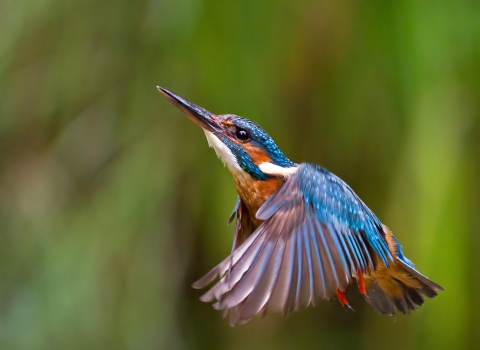 Meet our partners
Watercress and Winterbournes brings together the knowledge and passion of 15 organisations, including ourselves. We're honoured to be co-ordinating the partnership and collaborating with:
Cheriton Parish Council | Country Landowners Association | Environment Agency | Hampshire Buildings Preservation Trust and Whitchurch Silk Mill | Hampshire County Council | NFU Watercress Growers Association | Natural England | Salmon and Trout Conservation UK | South Downs National Park Authority | Southern Water | Test and Itchen Association | Vitacress | Wessex Chalk Streams and River Trust | Wild Trout Trust
Get involved
If our application for further funding is successful then there will be lots of ways to get involved in Watercress and Winterbournes, whether you live by our chalk streams or come from elsewhere to enjoy these special places.
At the moment, if you live in any of our catchment areas then a great way to get involved is to take our survey or join one of our community groups. We work closely with these groups to develop partnership projects addressing the unique needs of their areas, from restoring historic structures to improving water efficiency and tackling invasive non-native species.
Check the map below (click to enlarge) to see which of our catchment areas you fit into. To join your local group or for more information please contact Maggie on Maggie.Shelton@hiwwt.org.uk or 07741 572366.