Wilder Portsmouth is a partnership project between the Southern Co-op and Hampshire & Isle of Wight Wildlife Trust. The focus of this jointly-funded initiative is to encourage people to take action to create and enhance wild spaces where they live. 
We want to see more wildlife friendly areas and small outdoor spaces across the city of Portsmouth that are created and supported by the community.
How and where are people taking action for nature in Portsmouth?
As part of its commitment to protect local wildlife Hampshire and Isle of Wight Wildlife Trust has become a member of the Portsmouth Climate Action Board. The Board was set up by the local authority in 2019 to help drive the city's response to the Climate and Ecological Emergency. Please visit the Portsmouth Climate Action Board website for more information. The involvement of HIWWT strengthens our push for a Wilder Portsmouth giving us the opportunity to add natures recovery to a much wider audience.
Our projects
Portsmouth's first wild street was Francis Avenue. Some residents have installed a bin shelter with a green roof in their paved forecourt. The Trinity Methodist Church has added a bug hotel (a repurposed bedside cabinet) and planters in its grounds. Neighbours are sharing seeds, plants, and pots in nature exchange stations. 
Over in Whitwell road, nature exchange stations are also popping up and there's a buzz in the air as they too have plans to become a wild street.
Wild street organiser, Laura Mellor, said, ''The wild street has appealed especially to children, who have brought lots of ideas to the project. They show a strong connection with nature and a desire to take action to protect it. This experience has shown me, not only that children are committed and effective advocates of our wild street, but also that they get a lot of enjoyment from the work they are doing.''
In September 2020, we worked with Portsmouth Carers Centre and My Dog Sighs to display a new mural on the centre's end wall on Francis Avenue. 'Wild Thing' was painted by renowned Southsea artist, My Dog Sighs, and shows a stick man carrying several real and functional bird boxes; depicting one of the many ways you can get involved in making your patch of the city a little wilder.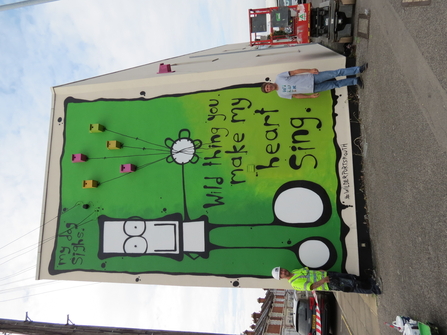 In 2019, a group of local school girls won HIWWT's Wilder Futures Competition: Coco, Lucy, Robyn and Eve. They received £400 to transform an area of neglected land into a wildlife haven. They installed raised beds in the area and sprinkled wildflower seeds around the rest of the ground.
Come to our events
Due to the COVID-19 pandemic, we have cancelled all of our upcoming events. Please check back later.
Read more about Team Wilder and Wilder Portsmouth