Wilder Portsmouth is a partnership project between the Southern Co-op and Hampshire & Isle of Wight Wildlife Trust. The focus of this jointly-funded initiative is to encourage people to take action to create and enhance wild spaces where they live. 
We want to see more wildlife friendly areas and small outdoor spaces across the city of Portsmouth that are created and supported by the community.
The number of actions, projects and people helping create a Wilder Portsmouth:
Can you help us make Portsmouth wilder? Join Team Wilder today.
Please enable javascript in your browser to see the map.
Our projects
Portsmouth is the second most densely populated city outside of London. Its green urban spaces are few and far between, but there is potential to create a network of wilder spaces - stepping-stones that allow species to move about and wildlife populations to connect.  Below you will find our most recent projects taking action for both people and nature.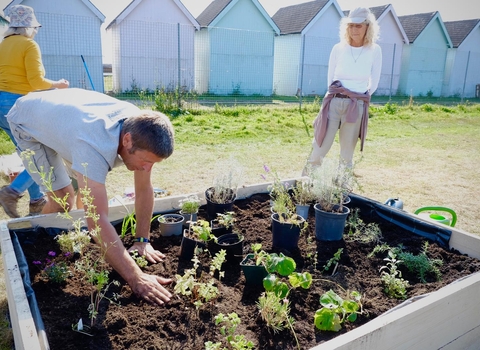 Feeling inspired?
Help us create a Wilder Future.
We've reached a point where our natural world is in critical condition and needs our help to put it into recovery. It's not too late to bring our wildlife back, but we must act now.
Join #TeamWilder to create a #WilderFuture and take action for nature's recovery today.
Act now