Annual General Meeting - 2018
Our vision for a wilder Hampshire and Isle of Wight
The 57th AGM of Hampshire & Isle of Wight Wildlife Trust and Members' Morning will be held on Saturday 27th October 2018, 10am–1pm at Winchester Guildhall, Broadway, High Street, Winchester SO23 9GH.
We very much look forward to welcoming you to our AGM and Members' Morning at Winchester Guildhall on Saturday 27th October.  Our agenda starts at 10am and finishes at 1pm, with complimentary tea/coffee and cake served during the break.
As well as the formal business of the AGM there will be:
Presentations from the Trust's Chief Executive and Staff celebrating our exciting recent acquisitions and projects and highlighting how they are enabling us to deliver benefits for our wildlife.
Launch of our new vision for the future. We will set out our ambitious plans to campaign for a wilder Hampshire and Isle of Wight.
A Question & Answer session giving you the opportunity to respond to the presentations and to put questions to the trustees and staff. 
The chance to meet other Trust members and supporters as well as trustees and staff. 
Our shop which will be selling Trust Christmas cards and wildlife-themed gifts.
We hope you are able to join us; this enjoyable event is a great way to learn more about the work of the Trust and to find out how your membership and support benefits our local wildlife. It also provides a great opportunity for you to hear first-hand from our staff about the Trust's work in our counties and for us to meet you in person.
We hope to see you there.
Debbie Tann, Chief Executive and David Jordan OBE, Chairman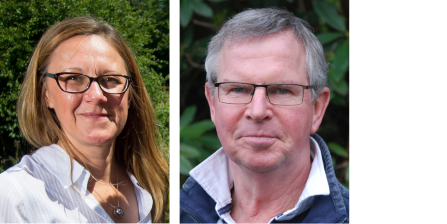 Directions
Booking
Book your place at the Members' Morning and AGM, or request a proxy vote if you are unable to attend
To book your place at the Member's Morning and AGM or to request a proxy vote if you are unable to attend, please complete an Invitation Response Form, available in the following formats: 
or
a hard-copy form – included in the summer edition of our Wildlife magazine for members
Whichever version of the form you choose to use, please remember to include your name, address and membership number and to return/submit it by Wednesday 17th October 2018.
Agenda for the 2018 AGM and Members' Morning
1. Welcome by the Trust's Chief Executive
2. Annual General Meeting
Apologies for absence
Minutes of the 56th Annual General Meeting
Report of the Trust's Chairman on the year 2017–2018
Report of theTrust's Honorary Treasurer and approval of Accounts for the year ended 31st March 2018
Elections to Council (please see below)
Appointment of Auditors: Sheen Stickland, being eligible, offer themselves for re‑appointment
3. Tea/Coffee Break
Meet other members and supporters as well as Trust staff and trustees over a cup of tea and a piece of cake and browse our shop selling Trust Christmas cards and wildlife-themed gifts
4. Presentations by the Trust's Chief Executive and staff
Celebrating our latest acquisitions and projects and highlighting the wildlife benefits that are being delivered, followed by a Question & Answer session
Elections to Council
 James Bain being duly qualified as a Trustee and having been co-opted in June 2018 stands for election
Re-elections to Council
Lesley Chin being duly qualified as a Trustee and having served 3 years as a Trustee stands for re‑election for a second term
David Jordan being duly qualified as a Trustee and having served 3 years as a Trustee stands for re‑election for a second term
Jane Page being duly qualified as a Trustee and having served 3 years as a Trustee stands for re‑election for a second term
Malcolm Sonnex being duly qualified as a Trustee and having served 3 years as a Trustee stands for re‑election for a second term
*This list may be updated in the run-up to the AGM (last updated 28/06/2018)