New Forest Non-Native Plants Project
The New Forest is a crucial area for wildlife but it is threatened by invasive non-native plants. These plants were introduced to UK gardens as ornamentals or as oxygenators in garden ponds but they have 'jumped the garden fence' and invaded the countryside. They grow vigorously, spread rapidly and elbow-out our native wildflowers which provide important food and nectar for invertebrates.
Our ongoing efforts, often supported by volunteers, are helping to control the spread of these vigorous invaders and protect habitats for native plants and wildlife.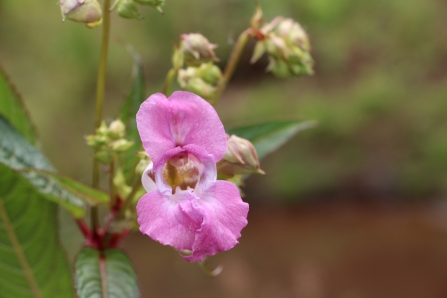 Wildlife
Because non-native plants are free from their native predators, they are often able to dominate a landscape with remarkable speed, pushing out the native plants and the invertebrates that depend on them.
With a decline in invertebrates comes a drop in species further up the food chain. Birds, fish and mammals can all be affected by this loss in diversity. Our wildlife depends on a well-balanced ecosystem, free of invasive non-native species.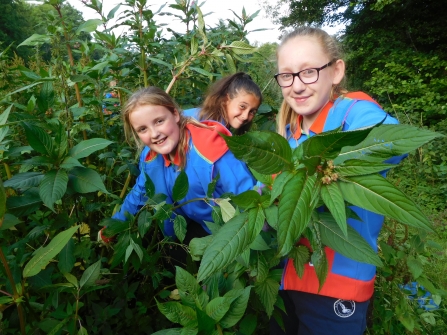 You can help...
Work Parties ... 
Please get in touch with Catherine Chatters on 07770 923315 or email Catherine.Chatters@hiwwt.org.uk if you are interested in volunteering. 
For a list of work parties to pull Himalayan balsam please contact Catherine Chatters.
Project partners
The New Forest Non-Native Plants Project is a partnership between the Hampshire & Isle of Wight Wildlife Trust, the Environment Agency, Forestry England, Natural England, the New Forest National Park Authority and The Verderers of The New Forest.
Hampshire & Isle of Wight Wildlife Trust is a partner in the New Forest 'Our Past, Our Future' Landscape Partnership Scheme which, supported by The National Lottery Heritage Fund, will restore lost habitats, develop Forest skills and inspire a new generation to champion and care for the New Forest. This scheme will enable the New Forest Non-Native Plants Project to help stop the spread of invasive non-native plants in the New Forest area. For more information visit the Our Past, Our Future website. 
This project was a partner in the European Union's Interreg-funded project 'Reducing the Impact of Non-native Species in Europe' (RINSE). Learn more about RINSE.