17,000 opportunities for children
Our Annual Report 2016-2017
Inspiring the next generation to manage and conserve land for wildlife.
Our longer-term vision for the future remains unchanged — we want our land and seas to be rich in wildlife and valued by everyone. We aim to halt the decline in biodiversity and the fragmentation of habitats.

Hampshire & Isle of Wight Wildlife Trust
As a charity, our work is made possible through the generosity of people like you who support us. Our funding comes from a variety of sources including individuals through membership subscriptions, gifts in wills and donations. The report also explains how we work in partnership with a wide range of supporters, partners and funders; it is by working together we can ensure our wildlife is always here for everyone to enjoy.
We are extremely grateful to everyone who makes our work possible. Thank you.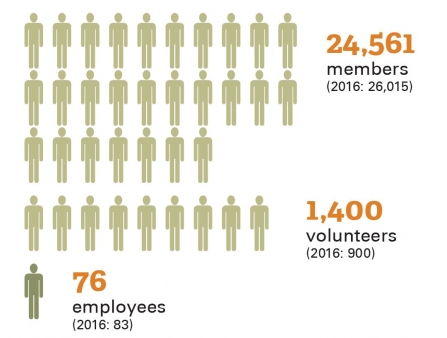 Our Annual Report provides an overview of the achievements and challenges we have faced during the previous financial year. It showcases our activities and gives a wide-ranging snapshot of what we have achieved throughout the year to protect the wildlife and wild places we all love; from the downs to the seashore.
Our Annual Report and Financial Statement 2016/17 reviews our performance for the year, the progress we're making against our objectives and our aims for the future.

Previous Annual Reports