Our strategy - making space for nature
Putting nature back at the heart of our way of life  
Our mission is to create living landscapes and living seas.
Our vision is that our landscapes, both rural and urban, and our seas, are rich in wildlife and valued by everyone.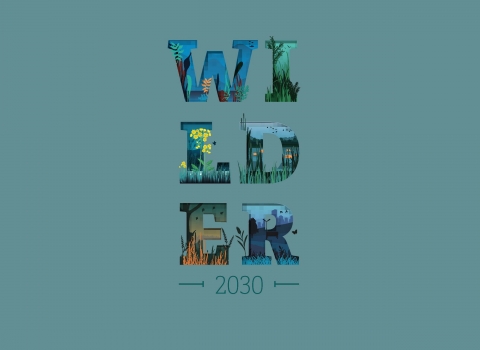 Find out more about our plan for nature's recovery
Our vision for a wilder future is beautiful and vital:
We want great places to live that are good for people and good for wildlife.
We want nature to be normal, for children to grow up with wild green spaces to explore.
We want a deafening din, a cacophony of chiping, churring and buzzing.
 
Discover Wilder 2030
Our Strategy to 2019
Wild and natural landscapes sustain us in so many ways. We care passionately about wildlife for both its intrinsic value but also the value that it provides through 'ecosystem' services, offering benefits to our health and wellbeing as well as the economy.

Hampshire & Isle of Wight Wildlife Trust
Nature is in trouble with 60% of studied species in decline in the UK, and the habitats that support our precious wildlife species are small, isolated and fragmented. Without natures recovery we will not be able to realise the benefits that it can bring to not only the economy but to all of our lives.
Therefore, we will protect and enhance our best wildlife sites and seek opportunities to create a joined-up ecological network to reduce the effects of fragmentation.
We also aim to reverse the trend of people becoming less connected with nature and through our strategy we will engage more people, inspiring an emotional and intuitive connection with the natural world, so that people and communities are more likely to actively support the need for nature's recovery.
Over the next 20 year we want to see:
Public Benefit
The Trust's overarching objective to protect and restore wildlife and the natural environment provides multiple benefits for the public which are wide ranging and long lasting.
Nature reserves

Our nature reserves across Hampshire and the Isle of Wight, are used extensively by the public for quiet recreation, and many have easy access via clearly marked paths. At most of our sites information and interpretation is provided to visitors to help everyone learn more about wildlife and the natural environment in their area.
Education

We deliver a broad education and engagement programme. We inspire thousands of people of all ages every year - from schools, colleges, adult groups and the wider public - to enjoy and benefit from contact with the natural world. Much of our engagement work provides direct health and wellbeing benefits too, including particular programmes for people with mental health issues.
Conservation

Our habitat management and restoration work provide essential 'ecosystem services' for the public, like good risk management, carbon storage, pollination, pollution control and aesthetic beauty. Government and businesses are now recognising the essential role that nature plays in supporting the economy, not least through the provision of these public goods and services.
Land advice

Through providing advice and assistance to landowners we help to support the rural economy, the countryside and landscapes that are enjoyed and valued by the wider public.
Research

Our information gathering and provision of expert advice and opinion to local authorities in Hampshire and the Isle of Wight and others helps to ensure that planning decisions are made on a rational basis taking full account of the public benefit of wildlife and a healthy environment.