We are delighted to announce that we have been awarded £640,300 by Heritage Lottery Fund to fund the full 4 years of this project.
We would like to say thanks to the many people that supported the Development Phase of our Secrets of the Solent project. So many people have generously donated to our appeal, carried out fundraising and volunteered for a wide range of project activities. We would also like to thank all the National Lottery players out there; it just goes to show what can be achieved when we all stand up for local wildlife.
Secrets of the Solent will:
Create 'citizen science' projects, working with local volunteers to collect data about what's on our shores and in our seas. This is a really important part of helping us push for greater government protections for the Solent.
Work with the fishing industry, restaurants and consumers to promote local sustainable seafood.
Build a team of 'marine champions' – an army of volunteers who can help protect the Solent and pass on their passion to others.
Make sure that as many people as possible get to know about the spectacular secrets of the Solent. Our hidden treasures will be brought to the surface through street art, photography and film.
Over the next few months we will be recruiting project staff and once they are in post it will be all systems go! Watch this space and keep an eye on our social media channels if you are interested in getting involved.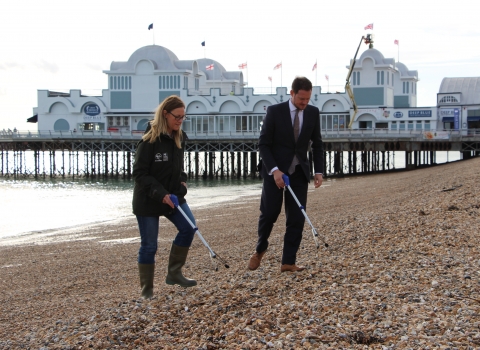 Take action for our seas
No matter where you live, you can help save our seas. Whether it's campaigning for better protections, making small changes in your lifestyle, or if you're closer to our coast, going out and helping collect data and clean up our beaches.
Get involved
Join a Shoresearch
We will be running Shoresearch events over the summer, which give you the chance to learn more about your area's varied marine life – whilst helping to build a complete picture of our stunning coastal habitats.
You don't need any special skills or knowledge to take part. We offer training courses each year so you can learn how to conduct a survey and what to look out for, or you can simply come along to surveys and learn as you go. All you need to do to take part is book on the survey you'd like to attend, then turn up on the day!
Surveys take about 2-3 hours and are conducted between March and September in a variety of locations around Hampshire and the Isle of Wight. Our survey areas include a range of habitats such as rocky outcrops, shingle, gravel and some man-made structures.
What to bring on a survey

Warm, weatherproof clothing and a hat - many survey areas are exposed and can be windy. Prepare for British weather!
Sturdy footwear – wellies or waterproof footwear with good ankle support are ideal. Rinsing salt water from walking boots after the survey is advisable.
Sun protection and water if a sunny day.
A hand lens and guide to sea shore animals and seaweeds if you have them, but don't worry if you don't as we'll be able to provide some ID guides for use during the surveys.
Washing up gloves – optional but some people find them useful in winter to help prevent wet hands getting too cold.
Shoresearch training courses

We run a training course in March/April each year and encourage people who are new to Shoresearch to attend as it's an excellent way to learn more about Shoresearch, our methods, and the sort of things you're likely to see.

If you've taken part in Shoresearch before the course is also a great way to refresh your skills and knowledge before the new Shoresearch season.

If you're unable to make the course you can also learn how to carry out the surveys and identify creatures 'on the job' by coming along to our surveys. There will be people there who can help you learn the ropes.

The Shoresearch project is primarily for adults but under 18s are welcome to attend if accompanied by a parent or guardian (please enquire for further details).

Please bring:

Everything on the list above for surveys as you'll be doing one as part of the course.
Notepaper and pen for notes.
Loose change for car parking.
Packed lunch (if applicable – depending on the time of the course).
Course and survey schedule 2018

| Location | Event | Date | Approx meeting time |
| --- | --- | --- | --- |
| Lee on Solent (Hants) | Survey | Thu 17 May | 17:30 |
| Freshwater (IoW) | Survey | Sat 16 Jun | 17:15 |
| Colwell Bay (IOW) | Survey | Sat 14 Jul | 16:00 |
| Royal Victoria (Hants) | Survey | Sun 15 Jul | 17:45 |
| Compton Bay (IoW) | Survey | Sat 11 Aug | 15:00 |
| Thorness Bay (IoW) | Survey | Sun 9 Sep | 15:00 |
| Keyhaven/Pennington Marshes (Hants) | Survey | Tue 9 Oct | 15:45 |

 

Please note we occasionally need to change survey dates. This webpage will be updated regularly but please book on to events you'd like to attend.

The course will be in classroom facilities at Lepe Country Park. We will have a few hours in the classroom learning about local marine life and survey methods, before moving to the shore at 15:45pm for the survey. The day will finish at approximately 18:15pm.
Booking onto a survey

Our Secrets of the Solent Shoresearch surveys are free of charge to attend but you will need to book by contacting Marine.Volunteer@hiwwt.org.uk

Please be aware, if you have not taken part in Shoresearch before you will be asked to fill in a Shoresearch Volunteer Registration form prior to taking part.