Reducing nitrates in the Solent
A nature-based solution to the Solent nitrates issue
Decades of pollution entering the Solent from waste water, urban runoff and agricultural discharges have caused the levels of nutrient enrichment in our precious marine environment to reach crisis point.  This problem, locally known as the Solent nitrates issue, has led to a moratorium on house building across our coastal region until a solution can be found.
Nitrates polluting the Solent
The granting of planning permissions across parts of South Hampshire and the Isle of Wight has been temporarily suspended due to Natural England's decision to halt any development which could contribute to nitrate pollution in the Solent. 
This is good news as it recognises that our environment cannot continue to be damaged indefinitely.  However, unless a solution can be found, there is a risk that mounting pressure for economic development could force our long-held environmental regulations to be relaxed, setting us on a path for more destruction of nature in future. 
Read more

The high levels of nitrates in the Solent have created vast mats of algae over the mudflats, stopping oxygen reaching the animals in the sediment and causing mass mortality, especially in hot weather.  Algae also forms a barrier to many birds which rely on probing the mud or picking off tiny invertebrates from its surface.  These mats can also smother some of our most threatened habitats:  seagrass beds and saltmarshes, choking them to death and risking erosion.  Whilst nitrate pollution arises from a number of sources, including agricultural runoff and outfalls, new occupied dwellings would add to the pressures through the wastewater generated.
The Trust's nitrate reduction scheme
Nature-based solutions can help to heal our damaged planet, absorb carbon, clean up pollution, reverse biodiversity declines and support the economy and society.  In the context of the Solent nitrates issue, this means we can use the power of nature to clean up the Solent - the basis of the Wildlife Trust's new nitrates scheme.  
By acquiring intensive agricultural land which is currently releasing nitrates in the Solent catchment, and changing its land use to reduce the polluted runoff into the surrounding waterbodies, we can ultimately cut the amount of nutrients reaching the Solent.  The Trust's nitrate offset scheme will utilise contributions from developers to purchase intensively managed farmland and rewild it, returning it to natural habitats, such as traditionally grazed meadows, wetlands or woodlands. This will  reduce nitrogen inputs from farming to offset the additional inputs arising from new houses. 
Read more

Natural England has established a method for calculating the nitrogen impacts of new developments and can therefore ensure nutrient reductions are achieved for any development through the acquisition and restoration of sufficient land.

In addition to the direct nitrate removal, the scheme has the potential to deliver a number of additional water quality and biodiversity benefits, through wider pollution reduction and expanding and enhancing vital wildlife habitats.

This scheme is only for developments that have met all other planning requirements, such as the habitats regulations and biodiversity protections.  By working constructively with local authorities, Natural England and developers, the Trust can shape development that is better for nature and set the bar higher so we see net gain for wildlife rather than net loss. 

Despite the current coronavirus pandemic, we are still in a climate and ecological emergency and as we recover from this crisis, we need to 'build back better' and invest in nature-based solutions as part of a new economic model for the 21st century.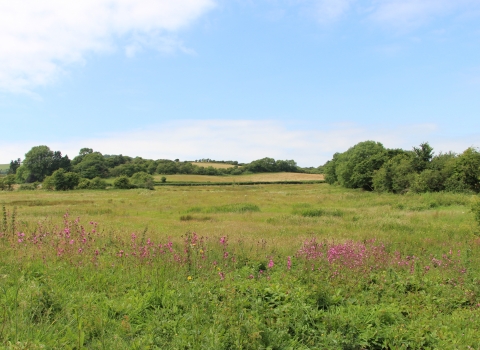 Working with the planning system
The Trust has been working to protect wildlife through the planning system for many years and the current system is certainly not perfect.  The sheer scale of housing in many areas is unsustainable and will impact wildlife and local people. 
We believe that where development does go ahead this must be sustainable - this means proper delivery of net gain for biodiversity, decent green infrastructure so that people can benefit from access to nature locally, and investment in nature-based solutions to clean up pollution.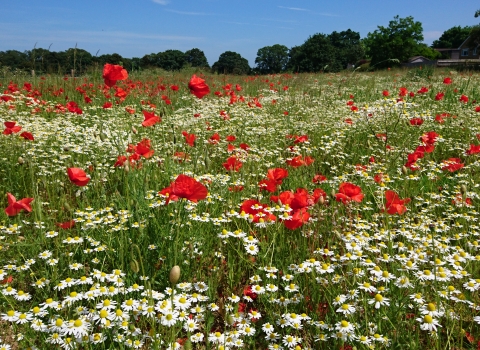 Development that is better for nature
If a solution to the nitrates issue is not found, central Government may penalise local authorities by adding additional housing numbers to their already weighty local targets.  Worse still, the mounting pressure for economic development could force our long-held environmental regulations to be relaxed, setting us on a path for more destruction of nature in future. 
By working constructively with local authorities, Natural England and developers, the Trust can shape development that is better for nature and set the bar higher so we see net gain for wildlife rather than net loss. 
Our local seas are being suffocated by untenable levels of pollution and we have to find ways of reducing the levels of nitrates entering the Solent.  By taking the most polluting land and re-wilding it, not only are we relieving the pressure on our marine environment, but we will also create wonderful wildlife-rich habitat, reducing pollution, capturing carbon and helping nature to recover.  We must now ensure that we are creating great places for both people and wildlife to live and thrive.

Hampshire & Isle of Wight Wildlife Trust
Frequently Asked Questions
What is the issue?

Pollution levels in the Solent from nitrate runoff are so high that Natural England has halted any development in parts of South Hampshire and the Isle of Wight which would contribute to this nutrient overload and cause further harm to the ecosystem. 
What is the proposed solution?

The Trust is proposing that land which is currently releasing nitrates in the catchment, such as fertilised arable land, could be managed differently in order to reduce nitrate pollution entering water-bodies, reducing the amount of nutrients ultimately reaching the Solent.  

We have shaped a scheme which would remove lower-grade agricultural land from intensive production (that which is less suitable for growing crops), stop the application of fertilisers and create natural habitats, such as traditionally grazed meadows, wetlands or woodlands. 
Why is the Wildlife Trust involved?

The Trust supports Natural England's decision to protect our precious marine environment and measures must be put in place to reduce overall pollution levels urgently.   

In the longer term, we would like to see far broader action to tackle the diverse causes of pollution, as well as the upgrade of water treatment works to ensure that all sewage is treated to the highest standards before it is released into local water bodies.

These measures are vital but there is more that can be done through nature-based solutions, such as re-wilding heavily fertilised arable land which would reduce pollution and create much-needed new habitats for wildlife. 
Is the Wildlife Trust facilitating development?

Our priority is nature's recovery. We recognise that more homes may be needed but we want to make sure that development is sustainable and gives back to nature more than it takes away - every building project should deliver ambitious 'net gain' for nature.  

We are willing to work with local authorities and developers, as long as they can demonstrate clearly that they are meeting their regulatory requirements with regards to biodiversity.   

We will only accept funds for nitrate offsetting where all other planning issues have been resolved. We have turned down proposals brought to us by developers that do not properly support nature's recovery.  

By accepting a site into our scheme, we are not supporting the planned development; our goal is to reduce the nitrates polluting the Solent and damaging internationally important habitats. In addition to this we will be creating new areas for wildlife to thrive - aiming to reverse the declines in wildlife we have seen in recent decades.  

Throughout this we will continue to challenge both policy makers and house builders to secure the best outcomes for wildlife and people. 
Does this only offset nitrate pollution rather than reduce it?

The method of calculation used by Natural England and the Local Authorities is based on achieving nutrient neutrality, so an offsetting-only approach would not necessarily reduce nitrate levels.

The Wildlife Trust's scheme follows the approved method of calculation but our scheme is the only one that puts the restoration of wildlife at its core – and as such we are confident that overall pollution levels will be reduced.
What might happen if we do nothing?

Several alternative schemes to offset nitrates are now coming forward - economic pressures are forcing solutions to be found.  The Wildlife Trust's scheme is the only one that puts the restoration of wildlife at its core.  

Other options to address the issue either will not lead to any wildlife gains or, if an alternative solution cannot be found, the Government could reduce the legal protection afforded to our internationally important wildlife sites. These protections are underpinned by European Law.  After 1st January 2021 the UK Government will be able to amend these laws and we fear that the prohibition on development around the Solent will be used as a reason to dilute protections across all internationally important sites. 
What about harmful development in my local area?

We understand how hard many local people have fought to resist poorly planned developments, and we have often battled alongside you. Unfortunately, our experience over the past 25 years has shown us that once a site is allocated for development, and particularly when it proceeds through the planning system to the later stages, our objections are generally unsuccessful.  

The nitrates issue may delay building taking place, but once the decision to develop an area has been made by the planning authority the development will go ahead. The Trust's scheme is providing an opportunity for net gain for nature, so when development does go ahead we can enable pollution to be reduced and new areas of natural habitat, such as woodlands, wetlands and meadows, to be created.  
How about accommodating wildlife within the development?

We agree that many developments fail to properly accommodate wildlife.  We are hoping that through this scheme, and other programmes we are rolling out, we will be able to enter into a dialogue with developers and try to embed the interests of wildlife at a much earlier stage.  We accept that this will not work with some developers, but it does present us with the opportunity to influence the design of developments more effectively than we have in the past. 

The scheme aims to secure land locally for nature to offset development as the first option. Unfortunately the availability of land is very limited.  We are therefore not always able to find suitable offset sites close to areas where development is happening. 
What will you do with the land?

The Trust will manage the land to produce highly biodiverse wildflower meadows, wetlands and woodlands filled with life. This means that the scheme will not only reduce pollution but will also help to absorb carbon and support local wildlife recovery.  
Why not buy land anyway and reduce nitrate pollution even more?

The Trust is a not-for-profit charity and is always looking for new opportunities to secure more space for nature.  

You may have seen recent public fundraising appeals to help us buy additional sites that are vital for our local nature recovery network. We have acquired four new nature reserves very recently thanks to our supporters. 

To help wildlife recover, our vision is that by 2030 a third of our land and sea is returned to nature.  By securing areas of farmland through this scheme it provides the Trust with a new way of expanding the nature recovery network - helping wildlife to bounce back across Hampshire and the Isle of Wight.  
Will this scheme be bad for farmers and food production?

The nitrates scheme will target lower quality farmland that has less agricultural potential than other areas - often the reason why nitrate pollution is an issue in the first place.  This represents a very small fragment of available farmland in the area and will not have a negative impact on farming and food production.