A nature-based solution to Solent nitrate pollution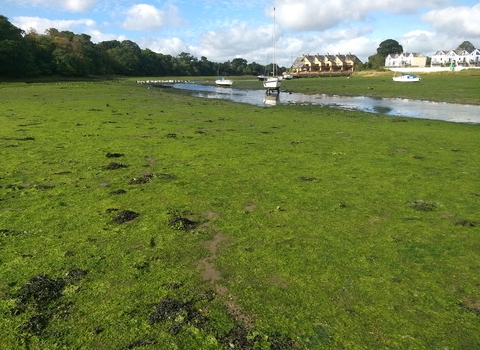 Nitrates polluting the Solent
The high input levels of nitrogen and phosphorus to the Solent's water environment are causing eutrophication. The resulting dense mats of green algae are impacting negatively on the area's protected habitats and bird species. Algal mats covering the mudflats stop oxygen reaching the animals in the sediment and cause mass mortality, especially in hot weather. Algae also forms a barrier to many birds which rely on probing the mud or picking off tiny invertebrates from its surface. These mats can also smother some of our most threatened habitats: seagrass beds and saltmarshes, choking them to death and risking erosion.
The Wildlife Trust's Nitrate Reduction Programme
Our programme, in simple terms, will provide a means of mitigating and reducing the nitrate impact of planned housing as well as creating new habitats for wildlife.
"Our local seas are being suffocated by untenable levels of pollution and we have to find ways of reducing the levels of nitrates entering the Solent.  By taking the most polluting land and re-wilding it, not only are we relieving the pressure on our marine environment, but we will also create wonderful wildlife-rich habitat, reducing pollution, capturing carbon and helping nature to recover. We must now ensure that we are creating great places for both people and wildlife to live and thrive." - Debbie Tann, Chief Executive Hampshire & Isle of Wight Wildlife Trust
Our Nitrate Reduction Programme is demonstrating a way of mitigating and reducing the impact of nitrates in the Solent from planned housing developments, through the creation of new nature reserves on formerly intensively managed farmland - creating new habitats for local wildlife and helping nature to recover.
Nutrient Reduction Programme Expression of Interest Form 
The Wildlife Trust's Nitrate Reduction Programme

Water pollution in the Solent

Our local seas are being suffocated by untenable levels of pollution and we must find ways of reducing the levels of nitrates entering the Solent. High levels of nitrates from human activity and agricultural sources in the catchment over decades have caused excessive growth of green algae (a process called eutrophication) which is damaging protected habitats, birds and other wildlife.

Natural England has identified nitrates and nutrient overload as the single most important pressure preventing our internationally important seagrass meadows - and the Marine Protected Areas they characterise - from reaching good environmental status. 

In 2019, Natural England issued guidance to local authorities in the Solent region that new planning permissions could only be granted if they can demonstrate 'nitrate neutrality' to mitigate the impact of additional wastewater outputs on protected habitats. This led to a pause on any new development within the region that would discharge into the Solent directly or via river catchments.

 

Nature-based solutions to nitrate pollution

The scale of the problems can seem overwhelming, but together we have the tools and knowledge to bring about desperately needed change. We have little influence on housing numbers and locations, which are set by the central Government. We recognise that the development of some sites allocated within local plans will take place with or without the Wildlife Trust's involvement.

Our priority is nature's recovery. We believe we must work with planners and developers to promote sustainable development that gives back to nature more than it takes away. While we are not opposed to appropriate development, we will continue to campaign against developments that are damaging to nature.

We are working with Natural England, local authorities and developers to deliver a nitrate mitigation programme. In choosing to be involved, we aim to provide a nature-based mitigation option – demonstrating that protecting and improving the environment is essential to a strong and green economy and that solutions are not only possible but can deliver additional benefits for wildlife and people as well.

By accepting a planned development into our programme, we are not endorsing the development; our goal is to reduce the nitrates polluting the Solent and damaging internationally important habitats. In addition to this we will be creating new areas for wildlife to thrive - aiming to reverse the declines in wildlife we have seen in recent decades. 

 

The bigger picture

The nitrates reduction programme will only make a small difference to the nitrate problem by mitigating the impact of new developments.

Nitrates pollution comes from a range of sources and has built up over decades. Intensive agriculture accounts for around half of nitrates in the Solent, 10% comes from urban sources, including wastewater from houses, a lot also comes from unknown sources. (ADAS (2015) Solent Harbours Nitrogen Management Investigation).

Nitrate pollution is only one of the many problems facing our freshwater and marine habitats. Our precious waterways and seas are facing the perfect storm. Polluting chemicals, fuel and waste from roads and industrial developments run off the land into our rivers, alongside fertilisers and pesticides used in intensive agriculture. Water companies regularly take water from streams and rivers (known as abstraction) and the discharge of sewage into our waterways and seas has become routine.

Alongside our nitrate reduction programme, we are calling for widespread change to protect our waterways and marine environment.

We are piloting nature-based solutions to demonstrate that they work. We are campaigning for stronger legislation to protect our wildlife and wild spaces and calling for greater investment in nature and nature-based solutions from government, local authorities, developers, water companies and landowners to help bring about desperately needed change.

We must act quickly - further delay could push these precious habitats over a tipping point beyond which they cannot recover.

 

How our Nitrate Reduction Programme works

Our Nitrate Reduction Programme is demonstrating a way of mitigating and reducing the impact of nitrates on the Solent from planned housing developments, through the creation of new nature reserves on formerly intensively managed farmland - creating new habitats for local wildlife and helping nature to recover.

Our nature-based solution works by acquiring intensively managed farmland, which is currently releasing nutrients into the Solent, and returning it to its natural habitats, such as traditionally grazed meadows, wetlands or woodlands.

Our programme is not the only option available to local authorities and developers. But, there are benefits of our programme that are not provided by other mitigation options:

Our programme is the only programme that puts the restoration of wildlife at its core.
Developments must pass our screening process and demonstrate no net loss of biodiversity.
Our rewilding sites will reduce nitrates from farming by taking land out of intensive agriculture.

To achieve this, we purchase low-quality, intensively managed farmland, which is releasing nutrients into the Solent, and rewild this land to create thriving nature reserves. 

 

How do we select mitigation sites?

The aim of the nitrate mitigation programme is to demonstrate that nature-based solutions can help reduce nitrates in protected habitats in the Solent. Complex hydrological modelling is used to work out which sites make the biggest difference for nitrate reduction. Sites are carefully selected based on their ability to remove nitrates from the right part of the Solent ecosystem, in the timescale required. 

We also need large enough areas of land to be available to provide the maximum benefit for nature through rewilding. This means that suitable farmland is not always available close to areas with housing developments, particularly close to larger towns and cities.

The nitrates programme is not designed to deal with other planning issues related to housing numbers, local biodiversity or provision of local greenspace. We will continue to campaign for these issues to be addressed by the government, local authorities and developers by pushing for stronger policy and regulation to force developments to take nature into account and for mitigation to be secured.

Mitigation is not a new approach and many of today's well-loved nature reserves (such as Blashford Lakes, Fishlake Meadows, Swanwick Lakes, Testwood Lakes and Barton Meadows) were secured as forms of mitigation through the planning system.

 

Little Duxmore Farm

Our first rewilding site, Little Duxmore Farm Nature Reserve on the Isle of Wight will remove 848kg of nitrogen per year from the Solent ecosystem. The site, a former arable farm, discharges into the Wootton Creek which in turn runs into the Solent. As the Trust restores it to natural wildlife habitats, this will directly reduce nitrate inputs into the Solent.

The money raised from the nitrate reduction programme was used to purchase Little Duxmore Farm in 2019 and will provide a fund to pay for the management of this new nature reserve for 125 years. This commitment has been written into a legal agreement, so the nature reserve will effectively be safeguarded forever.

The Trust has been rewilding Little Duxmore Farm and nature is bouncing back as the land begins to recover from decades of intensive farming. The recovery of wild plants has already made the site one of national importance with nationally rare arable weeds, including spreading hedge-parsley and upright goosefoot found on site. Invertebrates are also thriving, and skylarks have bred on the former arable fields. We are undertaking a programme of ecological monitoring to establish and communicate the benefits to wildlife as we rewild the site over the coming years.
Our ethical principles

We are clear that any mitigation we deliver must be in line with our ethical principles. The Trust will only provide nitrate mitigation for developments that have satisfied all other planning and legal requirements, particularly those relating to biodiversity. The planning process requires all developments to demonstrate that their proposals will not result in unacceptable impacts to existing important biodiversity. We have already refused to provide mitigation for developments which we have an objection to.

Where possible we will give preference to smaller developments, and to those who agree to incorporate wildlife gains into their plans, including contributing positively to the local nature recovery network.

We are committed to working positively with developers wherever possible to find ways of incorporating wildlife benefits into proposals. We feel it is important that we retain the ultimate decision whether to be involved in, or provide mitigation for, any particular project.