What is conservation grazing?
In the past, land would have been grazed by wild animals, or through traditional farming and commoning practices. Nowadays, conservation grazing animals are used to replicate this traditional method of land management because mixed farming has become less frequent and much of our land has been fragmented up by human development.
Through our grazing we try to carefully balance the wildlife aims of each site with the welfare needs of the livestock.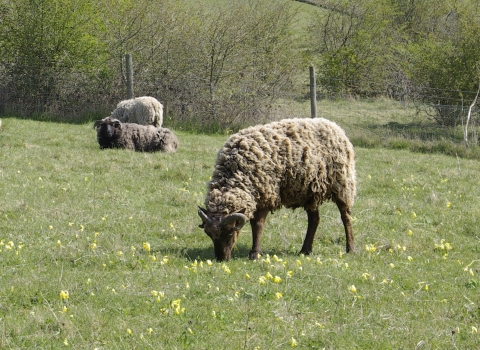 How do cattle and sheep help wildlife?
When livestock are allowed to graze freely they select different plants, and even different parts of the plant, to nibble or browse.  Over time, this selective eating by the animals creates a varied structure within the plants and the habitat.  It is this that helps create the right conditions for a wide range of insects, birds, reptiles, mammals and plants to exist.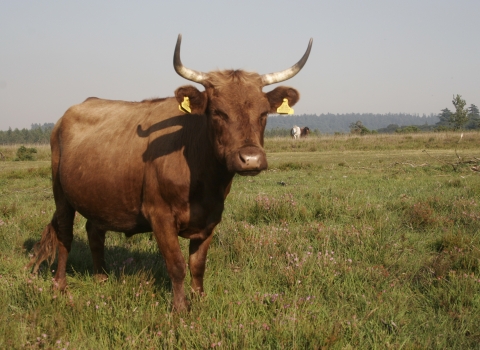 What are the alternatives?
Without being able to graze, the only options would be mowing or burning. Both of these techniques cause rapid and dramatic habitat change and leave behind a uniform structure. Mechanical methods cannot replicate the unique conditions that grazing animals create because they pick and choose what they eat throughout the year.
Our cattle and sheep
Our livestock are a key part of how we manage many of our nature reserves across the two counties.  We also provide grazing livestock for other landowners, helping them to manage their land effectively for wildlife.
We have been building up our own livestock over the past few years and today we have around 380 cattle and 180 sheep.    
We choose to use native and traditional based breeds because we believe they are best suited to thrive in our local landscapes, where their diet will be very varied, sometimes rough and low in nutrients. These types of breeds are also docile so well suited to be grazing reserves with visitors.
Our farms
We now have two farms, one in the North of Hampshire at College Copse Farm at Rotherwick near Hook and one in central Hampshire at Hockley Farm, on the River Itchen near Twyford. These farms provide essential bases that allow our experienced grazing team to look after our livestock – making sure they are happy and healthy as well as delivering the conservation grazing that creates valuable spaces for wildlife. 
Hockley Farm
Hockley Farm was bought by the Trust in 2017 thanks to the very generous support of the local community, our supporters and a gift in a will from Miss Patricia James. Together with our farm at College Copse, this has allowed us to strengthen our conservation grazing programme, allowing us to manage more land in this traditional and effective way.
Find out about leaving a gift in your Will to help wildlife
Looker Maps for Volunteers
Ancell's Farm
Caesar's Camp
Longmoor
Hawley Common
Bramshot Heath
Bramshot Heath - aerial
Gelvert catchment
Gelvert catchment - aerial
Pondtail
Bartley Heath
Foxlease
Hook Common - north
Hook Common - south
Long Valley
Velmead Common