About the governance of the Trust
Hampshire & Isle of Wight Wildlife Trust was established in 1960. It is a registered charity (no.201081) and a company limited by guarantee (registered in England no. 676313) governed by its Articles of Association.
The Trust is a member of the Royal Society of Wildlife Trusts (registered charity number 207238) along with 45 other local Wildlife Trust members throughout the UK which are collectively known as The Wildlife Trusts.
Our charitable purpose
For the benefit of the public, to advance, promote and further the conservation, maintenance and protection of the environment.
To advance the education of the public in the principles and practice of sustainable development and biodiversity conservation.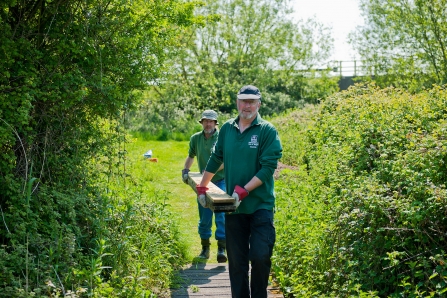 Who governs the Trust?

Those elected to serve on the Council of Management have a dual role as a Trustee of the charity and a Director of the company. All Trustee Directors are volunteers and are not paid for their services. There are currently 15 members of Council who provide the Trust with a wide range of professional expertise in the fields of conservation, finance, marketing, education, management, biological research and human resources.

Members of Council

Chair of Council – David Jordan

Vice-Chair of Council – Christopher Langford

Safeguarding Trustee – Helen McCormack

Lesley Chin

Oliver Cox

Richard Green-Wilkinson

Lesley Kirk

Andrew Lee

Jane Page    

Matt Prescott

Julian Roberts    

Malcolm Sonnex

Peter Vaughan

 
How is the Trust governed?

We endeavour to manage our affairs efficiently and transparently, making it clear who is accountable for what.

Day-to-day management of the charity is delegated to the Chief Executive, according to a Scheme of Delegation approved by Council. The Chief Executive reports to Council and works with a team of executive directors to deliver the work of the charity. 

Senior Staff:

Deborah Tann - Chief Executive
John Durnell - Director of Estates and Conservation Delivery
Hannah Terrey - Director of Advocacy and Engagement

Catherine Day - Director of Fundraising and Marketing

Natasha Thorneloe - Director of Finance and Resources
Clive Chatters - Company Secretary
Martin de Retuerto - Director or Projects and Services (Managing Director, Arcadian Ecology and Consulting)

Council meet quarterly to:

select suitable accounting policies and then apply them consistently;
observe the methods and principles in the Charity Statement of Recommended Practice;
make judgements and estimates that are reasonable and prudent management as laid down by legislation and the best practice guidelines of the Charity Commission;
prepare the financial statements on a 'going concern' basis unless it is inappropriate to;
presume that the charitable company will continue in business.
 

An Annual General Meeting (AGM) for members of the Trust is held in the autumn each year.
Council's specific responsibilities

Council's specific responsibilities include the taking of all decisions on matters of strategic management and governance, monitoring of operations, land and buildings acquisition and disposal, health and safety, risk management, setting and amendment of investment guidelines, recommending to the AGM the Statutory Auditors for the coming year, approving the Annual Report & Accounts, keeping the Memorandum & Articles of Association under review and appointing and appraising the Chief Executive who is responsible for the day to day management of the Trust.

Council has the power to delegate powers to sub-committees which provide additional scrutiny, expertise and advice to Council to assist it with its decision making. Current committees include Business & Finance Committee (drawn from current trustees) and Conservation & Science Committee (a mixture of trustees and outside experts).

Trustees elect the following officers annually: Chair, Vice-Chair, Honorary Treasurer and also Chairs of Committees. Council also appoints a Company Secretary (a paid member of staff) to assist with the governance of the organisation and to support the work of Trustees.
Committees

The Council is assisted by a number of sub-committees that meet on a quarterly or semi-annual basis and report directly to Council, providing expert guidance and advice. All non-staff members of committees are volunteers.

Business and Finance Committee: scrutiny of accounts, oversight of investments and financial controls, policy development, compliance monitoring, advice on business risk and resource management.
Conservation and Science Committee: advise Council on conservation policy, research and monitoring, land acquisitions and disposals.
Health and Safety Committee: policy development, compliance monitoring, incident reporting, advice to Council.
Safeguarding and Child Protection Committee: policy development, compliance monitoring, incident reporting, advice to Council.
Human Resources (HR) and Remuneration Committee: advice on HR plans, policies and strategies; oversight of remuneration and benefits policy and levels in relation to the market, and setting remuneration for Chief Executive; oversight of HR metrics, succession planning and use of volunteers.
Our Policies
Safeguarding and Child Protection
We take child protection and safeguarding very seriously. Our statement (link below) sets out how we implement child protection and safeguarding across the Trust and who to contact if you have questions or concerns.
Child protection and safeguarding statement
Health and Safety Policy
The Trust takes its responsibility for the health and safety of its staff, volunteers and visitors seriously. This year we have undertaken an extensive update and revision of our policies and procedures. You can view the General policy statement here. If you would like further details of our policy and procedures please contact us through our headquarter contact details. 
Equality and Diversity Policy
A copy of our Equality and Diversity Policy can be downloaded here.