Engaging People at Milton Locks
Thanks to The National Lottery Heritage Fund, between January 2016 and June  2018, the Milton's Hidden Seashore  project worked to bring Milton Locks nature reserve back to the heart of the community.
During this time , over 4600 people participated in  events, education sessions, talks and other activities aimed at introducing people to their local nature reserve.
Milton Locks is a small two acre coastal nature reserve. What makes this place so special is the abundance of wildlife that can be observed, from birds such as oystercatchers and curlews, to salt marsh plants, and reptiles such as common lizards. As well as its significance for wildlife, the site also has a rich heritage. It started life as part of the Portsmouth to Arundel canal which opened in 1823 and was home to a houseboat community in the mid 20th Century.
Project Activities
The activities of the project were focused around three themes, each highlighting the diversity and unique character of the reserve
Milton's Muddy Shores

Mud is marvellous and gravel is great. The seashore at Milton Locks provides a habitat for many plants and animals. Our shoreline safari provided opportunities for hands-on close encounters with coastal wildlife and inspired children and adults to take care of their hidden seashore.
A Grassland Adventure

We took groups on an adventure with us to identify and investigate the animals and plants of the Milton Locks grassland habitat. They enjoyed opportunities to catch, observe and classify minibeasts, explore the world of plants and discover much more in the long, whispering grass.
Locked in the Past

We took people on a journey back in time with us as we discovered the historical tales of our hidden seashore and the surrounding area. Bronze Age and Saxon archaeological finds, wrecked boats, legendary characters and even a mysterious 'ghost' canal were just a few pieces of historical jigsaw.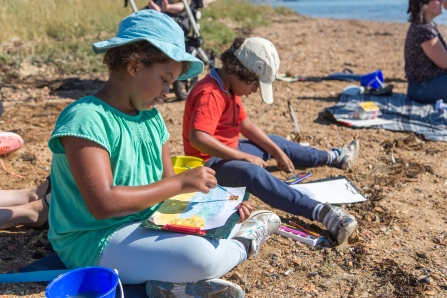 Local people and Milton Locks
Milton Locks nature reserve is an ideal place for local people to have first hand experiences of the wildlife on their doorstep. It is also a great place for young and old alike to enjoy the health and wellbeing benefits of time spent outdoors and to learn about the natural and historical heritage of their area.
What have local people said about Milton Locks?
"We had a wonderful time and loved how much enthusiasm and patience the whole team put in to give us a fantastic morning out! My children absolutely loved it!" - parent who attended a family event
"In protecting this small yet significant part of the locks, you will be safeguarding a unique opportunity for city children to experience nature first hand." - Kevin Doyle, resident of Milton
Learning at Milton Locks
During the course of the Milton's Hidden Seashore project, we worked with many schools, pre-schools and community groups, offering them outdoor learning and play experiences based around the three themes of the project.
What have teachers said about Milton Locks?
"The children loved the visit and remembered lots of details in follow up Science work." - Year 4 teacher
"Thank you…will be recommending to other teachers…Lots of great questioning going on." Year 6 teacher
Make a booking
Although the project came to an end we can still offer visits to the wonderful seaside reserve. Please get in touch to make a booking.
To organise a self-led school or group visit, please email swanwicklakes@hiwwt.org.uk to book a date.
To organise a visit led by one of our Outreach Education team, please email swanwicklakes@hiwwt.org.uk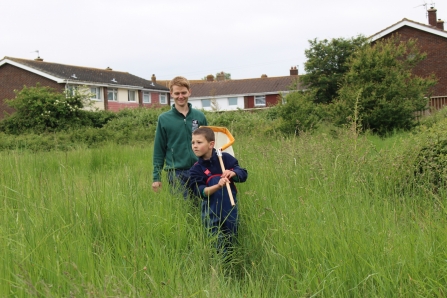 Documenting Milton Locks' heritage
As part of Milton's Hidden Seashore, we worked with local media partners Strong Island Media to produce a unique short film about the amazingly rich heritage of Milton Locks. Together we gathered local people's memories and archival film and photos of the area's past, and celebrating the growing community exploring and celebrating Milton Locks nature reserve today.  
Generations have enjoyed the tranquil beauty of this section of Portsmouth's coastline - from the painter Edward King and the houseboats of the 1940s, to today's photographers and wildlife enthusiasts. The film can be watched in full below:
Discover Milton Locks today
Though Milton's Hidden Seashore has come to an end, there are plenty of ways to get involved. Why not download our guide to discover wildlife year-round, or bring your family to one of our upcoming events.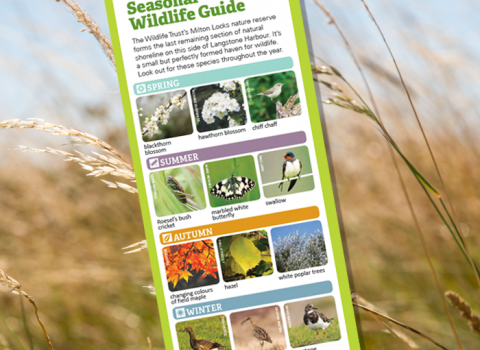 Discover Milton Locks
Download our Milton Locks discovery guide, including top tips on what wildlife you can see there all year round
Download