Thanks to the Heritage Lottery Fund we're building on our community work at our Milton Locks Nature reserve in Portsmouth
Milton Locks is a small two acre coastal nature reserve. What makes this place so special is the abundance of wildlife that can be observed, from birds such as oystercatchers and curlews, to salt marsh plants, and reptiles such as common lizards. As well as its significance for wildlife, the site also has a rich heritage. It started life as part of the Portsmouth to Arundel canal which opened in 1823.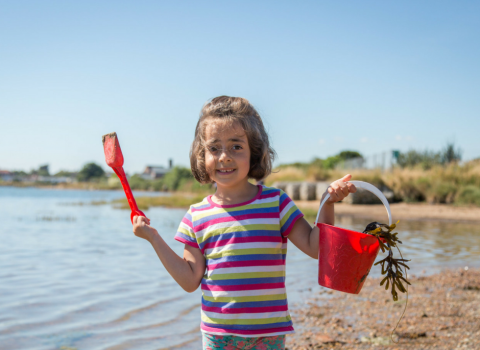 Local people and Milton Locks
The reserve has been proving itself as an ideal place for the next generation to have their first outdoors experience – with hundreds of children learning about natural history through seashore safaris and treasure hunts on school visits.
Local people and Milton Locks
We've been raising awareness of this pocket of wildness and how people can get involved in exploring its heritage and caring for it in the future.
In the spirit of Edward King we held a community art day, giving local families and artists the chance to portray the modern day scene. We have a wonderful team of volunteers to help us look after the reserve, and champion green space at the heart of in the community. 
Here's what Kevin Doyle, resident of Milton, has to say:"I have been a resident of Milton since 1977, during which time I have seen a gradual urban creep which threatens to undermine the wonderful and varied wildlife that inhabits the area. In protecting this small yet significant part of the locks, you will be safeguarding a unique opportunity for city children to experience nature first hand."
Learning at Milton Locks
We've been providing lots of opportunities for local people, schools and other groups to find out more about this amazing green space on their doorstep
Schools, Early Years Childcare Providers and Groups
We've been promoting the nature reserve and running activities to encourage local schools, childminders, nurseries and groups with young people to visit the site and learn about local wildlife and heritage through outdoor learning sessions led by the Trust's Education Team. Sessions are flexible around the practical and learning needs of your group enabling you to meet your individual learning goals or just to provide a fun safe environment to learn new skills.
Milton's Local Community
This project provides an opportunity for local people to get involved in a range of ways including volunteering to look after the site, running educational groups or leading events. Over the two years we also hope to provide advice and training to teachers, childminders, parents, grandparents and other carers on how to use the site for fun, safe and educational activities that they can lead at the reserve, ensuring that the site is a hub for people to connect with the heritage and wildlife on their doorsteps.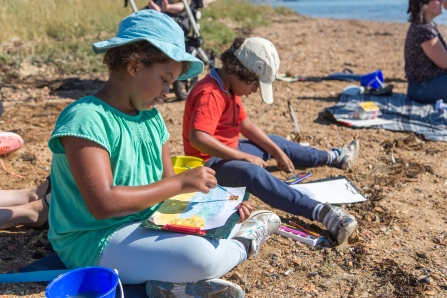 Our three themes help you to discover the hidden secrets of Milton Locks. We can cater for many learning objectives and age groups within these themes.
Milton's Muddy Shores

Mud is marvellous and gravel is great. The seashore at Milton Locks provides a habitat for many plants and animals. Our shoreline safari provides opportunities for hands-on close encounters with coastal wildlife and inspires children and adults to take care of their hidden seashore
A Grassland Adventure

Come on an adventure with us as we identify and investigate the animals and plants of the Milton Locks grassland habitat. Enjoy opportunities to catch, observe and classify minibeasts, explore the world of plants and discover much more in the long, whispering grass.
Locked in the Past

Journey back in time with us as we discover the historical tales of our hidden seashore and the surrounding area. Bronze Age and Saxon archaeological finds, wrecked boats, legendary characters and even a mysterious 'ghost' canal are just a few pieces of historical jigsaw. Explore the past with us at Milton Locks.