Protecting our coastal birds
The Solent is one of the country's most important locations for over-wintering birds - to continue to protect them we need to know more about their habits.
We're at the forefront of efforts to conserve the Solent's critically important
populations of overwintering coastal birds for the past 15 years.
Birdlife under pressure
The Solent is one of the most important coastal zones in the UK, providing an internationally important over-wintering area for waders, ducks and geese. As a result, its recognised and protected at national and international levels.
However the Solent is also one of the busiest shipping lanes in Europe, and is heavily used recreationally by people on the water and at its very built-up edge. Combine this with rising sea levels, our coastal habitats and the birds that rely on them are being squeezed out.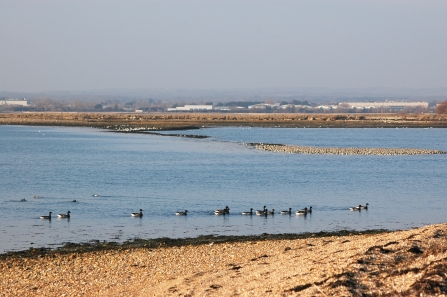 Going beyond protected areas
While protecting key areas is important, the reality is that many species depend on a much wider area for their survival. It's essential that we have a clear understanding of which sites are important for wintering birds. 
At Hampshire & Isle of Wight Wildlife Trust we initiated a Solent Waders and Brent Goose Strategy, working in partnership with other conservation organisations and local councils. The first comprehensive survey was done in 2002. Since then it's been updated and expanded to include the whole of the Solent, including the northern coastline of the Isle of Wight. Through a programme of long-term surveying and mapping, over 15,000 records from 1,000 different sites across the Solent have helped us locate the key places that these bird populations need to thrive.
Most importantly we've been able to follow how birds move between sites, giving us a much better picture of the locations that now need protecting or mitigating when councils are making decisions on planning applications. 
Support our coastal birds
We are urgently looking for volunteers to help us survey Brent and waders using the Solent coast of the Isle of Wight. See here for further details. 
Together we can continue to secure protections for these wonderful species. Help us protect our waders, wildfowl and other bird species across our counties by donating to our conservation work.
News on our work for birds