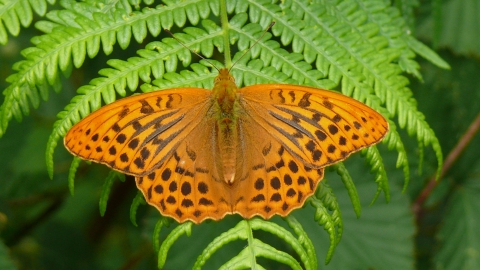 Newchurch Moors Nature Reserve
The rich tapestry of habitats, from floodplain meadow to grazed pasture, marshland, fen, river and woodland, creates a home for species such as barn owl, buzzard and dormice.
Know before you go
Parking information
Available in Newchurch Car park in School Lane, Newchurch (grid reference SZ 562 854, Postcode PO36 0NH).
Access
All paths are unsurfaced. Lower lying sections can be wet and muddy through the winter months.  There is a gentle slope leading down to the Eastern Yar Valley
When to visit
Opening times
Open at all times
Best time to visit
Visit in summer to see woodland butterflies and the different species of bees and wasps that frequent the woodland
About the reserve
Situated in the beautiful Eastern Yar Valley, Newchurch Moors was created in 2019 thanks to generous donations from our supporters and a gift in the Will of Gwendolen Bunce.
Two new pieces of land, combined with our existing Martin's Wood reserve, created the Trust's largest Island reserve at 124 acres.
Spring is the perfect time to visit as woodland flowers such as wood anemone, primrose, bluebell and wood aven are in full bloom, and butterflies including brimstone, small white and green-veined white can be seen.
The low lying wetlands, visible from the rights of way, are home to important wetland species. At the water's edge you may spot a water vole, kingfisher, snipe or woodcock. Many dragonflies use the site including scarce chaser and small red damselfly.
Among the melody of the songbirds, including bullfinch, treecreeper, long tailed tit and blackcap, the distinctive drum from greater spotted woodpecker can be heard.
Keep an eye on the trees to see red squirrel leap from branch to branch or bats flit across the evening skyline. The woodlands are also home to dormice.
Look closely at the sandy soil and you may see the tiny holes where burrowing bees have made their homes. In a woodland clearing, there is also a purpose-built insect nest.
At Martin's Wood, a leisurely circular walk through mixed woodland and open fields, taking about an hour, is perfect for families with small children. Although the paths are unsurfaced, the ground is relatively flat and dry all year round.
Habitat