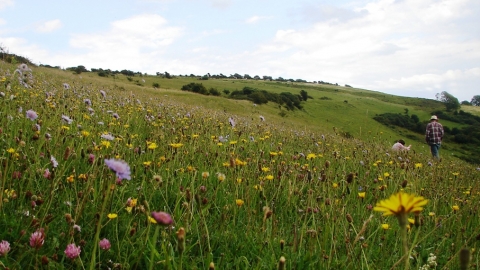 Arreton Down Nature Reserve
A beautiful nature reserve famous for its butterflies
Know before you go
Entry fee
Donations welcome
Parking information
Parking is available at the entrance to Downend Chalk Pit or at Arreton Village Car Park next to the White Lion pub.
Bicycle parking
Cycling on site is not permitted.
Grazing animals
Cattle grazing from October to March.
Walking trails
There are footpaths across the site, but much of the ground is sloping and uneven.
Access
Access information below.
When to visit
Opening times
Open access
Best time to visit
Arreton Down is beautiful all year round, but especially in the summer when chalkhill blue butterflies are on the wing, field crickets are chirping and the summer flora is in bloom.
About the reserve
Arreton Down nature reserve is home to a huge variety of plants. Horseshoe vetch, gentians and orchids are just a small selection of the plants that grow on this reserve - more than 30 different species have been found in one square metre! This abundance of plant life supports a wide range of invertebrates, including great green bush crickets and field crickets.
Arreton Down is famous for its butterflies - as well as tens of thousands of chalk hill blue butterflies, Adonis blue, brown argus and dingy skipper are also plentiful - and these are just a few examples of the huge variety of butterfly species found here.
Yellowhammers, goldfinches and linnets are also abundant, and migrants such as wheatears, whinchats, redstarts and spotted flycatchers are frequently spotted around the reserve. Ravens, kestrels, buzzards and barn owls are common sights throughout the year.
The reserve is rich in history as well as wildlife, and is strewn with features relating to past land use, including holloways, barrows and ancient monuments.
The history and life that flows from Arreton Down make this reserve a wonderful nature place to get in touch with your inner explorer. Why not bring one of our spotter sheets with you and see how many species you can identify?
Habitat
Environmental designation
Site of Special Scientific Interest (SSSI)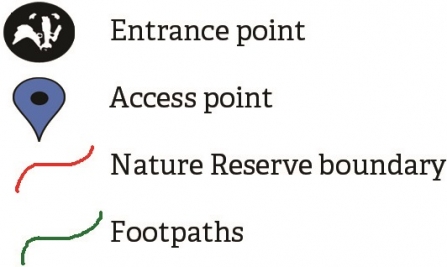 Map Key
Access information
From the west at SZ 533 874. This kissing gate is accessible for mobility buggies with the use of a RADAR key.
There is a stile further down Downend Road - this is not recommended as the road here is narrow with no footpath and fast traffic!
From the south of the down a footpath is located in the village of Arreton, beginning by the White Lion pub. There is parking opposite the pub around SZ 534 866. This route passes the old church and manor, then gently climbs through fields to a kissing wicket at the foot of the down.
From the south east, a footpath leaves the village, crosses the Bembridge trail and enters the reserve at approximately SZ 540 870.
From the north, just off the road, there is another kissing wicket at approximately SZ 541 872.
There is a small area at the western end of site which is suitable for wheelchair access. The rest of site has steep slopes and uneven terrain.
Events on the Isle of Wight