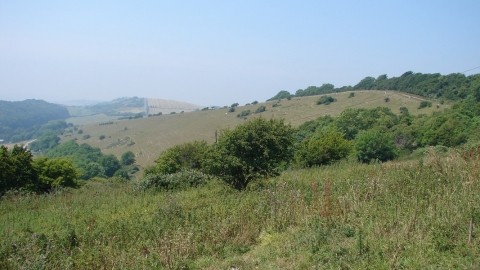 Knighton Down Nature Reserve
A fascinating reserve with spectacular views and spooky historical surroundings
Location
Know before you go
Entry fee
Donations welcome
Parking information
There is a small, council owned parking area at entrance to Knighton East Wood (Bridleway NC4)
Grazing animals
Sheep and cattle
Walking trails
Footpath NC3 runs across site, and there is one unsurfaced public footpath that runs from the south-west corner to Brading Down Road. This can be muddy.
This nature reserve is on a slope which is very steep in places.
Access
Each reserve entrance has a stile or gate.
If you're coming from Newport, after 4 miles turn right towards Brading onto Brading Down Road. 100m after the layby on left, use the small pull-in on the right at the eastern reserve entrance.
When to visit
Opening times
Always open
Best time to visit
Visit in summer tutterflies amongst the chalk flora. Listen for ravens and buzzards, kestrels, swifts and swallows. Spring brings yellowhammer song, and autumn sees passage migrants such as wheatears, whinchats and redstarts.
About the reserve
Knighton Down is a wonderful reserve to see butterflies - chalkhill and adonis blues are abundant in the summer. Ravens, kestrels and buzzards can be seen soaring overhead, and during the warmer months the dulcet tones of farmland and grassland birds such as yellowhammers, skylarks and meadow pipits fill the air. 
Carline thistle, salad burnet, squinancywort and the increasingly rare bastard-toadflax can all be found here, along with a host of other beautiful wildflowers.
A great deal of history surrounds this nature reserve - the infamous Knighton Gorges (supposedly the most haunted house on the Island) can be seen from the down. This rugged chalk downland has not changed for centuries. With panoramic views over fields and the open sea, this pocket of traditional downland is a sanctuary for wildlife and a valued retreat for local people.