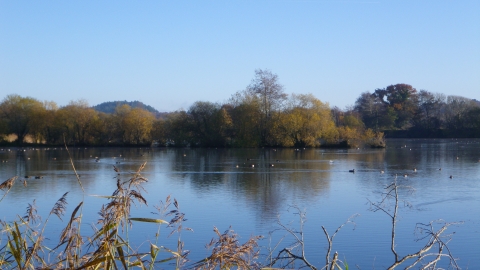 Digital wildlife photography basics 2
Location:
Ellingham Drove,
Ringwood,
Hampshire,
BH24 3PJ
Book
Improve your camera skills to create beautiful wildlife photographs. Bring your own camera, whether it is a digital SLR, bridge or compact camera and learn how to use the functions and settings you will need to improve your photography.
About the event
Your tutor John Combes is an experienced wildlife photographer and lecturer will teach you about the equipment and techniques used by nature photographers from the basics up including:
Depth of Field
White balance
Noise
Processing
Composition
After the indoor session you will get a chance to practise what you have learned by taking photographs round our Blashford Lakes reserve near Ringwood and take part in an informal and constructive review of the images in an indoor session at the end of the day.
Join all 4 workshops and get 10% off, you can book through our shop, call us on 01489 774406 or email courses@hiwwt.org.uk and pay just £216 for all 4 photography workshops.
Is this course for me?
If you are not familiar with taking control of your camera and have been running it on automatic settings our Basics 1 and 2 workshops are created for you.
When and where?
Saturday 23 March 2019 10am to 4pm
 Blashford Lakes is in the New Forest, situated to the north of Ringwood
What do I need to bring?
• DSLR camera, 'bridge' camera or compact digital camera
• A camera support (e.g. tripod/beanbag).
• An empty memory card in your camera
• A spare, fully charged battery
• A printed manual for your camera (this is useful but not essential)
• Teas, coffees and biscuits are provided but please bring your own lunch.
Tutor
John Combes
John has been interested in nature and photography for over 30years. A business studies lecturer for 31 years, but after taking early retirement he is now self-employed as a wildlife photographer and lecturer concentrating on giving presentations to local clubs and societies and running photographic workshops/courses. He also does his own wildlife sound recording and music production as part of his presentations. Early interests in nature photography were concentrated on close-up work with insects and flowers, but he now covers all aspects of UK wildlife as well as landscapes. Visits to the Canary Islands and Cyprus have added to his range of talks but he mainly concentrates on nature in the local area with the New Forest and Purbeck Coast providing a constant source of inspiration.