Tried and Tested: Marine Citizen Science
Citizen science is a great way to make a real difference to our marine wildlife. Katie Finnimore, one of our Marine Champions, tries out two of the most popular initiatives.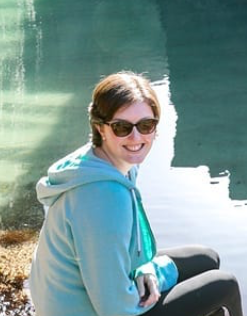 Hello, my name is Katie and I'm currently undertaking a degree in Marine Biology. I'm based in Cornwall, which is a wonderful place to study wildlife and the marine environment. I grew up in the New Forest and intend to return to the area in the long term to enter the field of marine conservation.
I became a Marine Champion volunteering on Secrets of the Solent to engage with local communities about the amazing marine life we have locally, and to promote its protection. I have found this an extremely rewarding experience so far.
As part of my volunteering I recently tried out two citizen science initiatives, which are very important to conservation efforts. I hope this will help make them more accessible to the public by showing how easy it can be to take part - it's important that everyone realises that their small efforts can make a difference.
I really enjoyed taking part in these initiatives, and have ordered the Big Seaweed Search pack so I can try that out too! Keep reading to find out what I thought of each method I tried.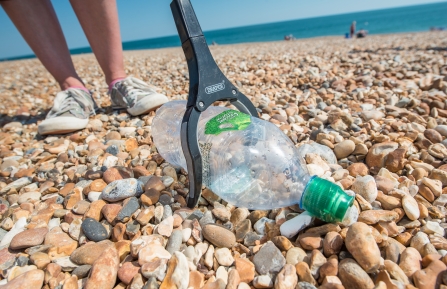 2 Minute Beach Clean - collect and record plastic litter
Difficulty level: 2/5 (easy).
Activity level: Walking and bending down.
Age level: Both children (with supervision) and adults.
Time needed: Two minutes or longer.
Equipment needed: Mobile phone or computer for submitting data. Litter pickers, gloves, and a bag for waste might also be useful.
I undertook this method for about one hour at Milford on Sea on the Hampshire coast. I started doing two minutes, which I timed, but the only thing I found was a rope which was too buried to remove. This is a fairly clean beach (which is obviously great!) and it can be difficult to spot rubbish in shingle, so I decided to keep going. I collected a reasonable amount of all sorts of rubbish over the hour, and at the end I sorted through it to categorise what I had found.
Positives
This method was very easy to undertake, with no real equipment required and no parameters set on the space you clean or the time you spend doing it (if you decide to spend longer than the suggested two minutes). I like to think that people who see me might be encouraged to do their own little beach clean.
It was also really rewarding to make a difference to my local beach, and I enjoyed adding an activity and purpose to my walk. Doing a 2 Minute Beach Clean reminds you that it's possible to do a small good deed without having to change your day much.
Negatives
This method can be a bit of a messy job, but this just means you need to give some thought to where you can wash your hands (if you're not using litter pickers), what else you might be doing on your beach outing, and where you can dispose of the litter you collect.
I also had trouble uploading my data to the 2 Minute Beach Clean app. It's designed to let you log your beach clean by checking in at your location, but when I tried to do this after leaving the beach I was unable to choose the correct location. However, I think I might just need to play around with the app so I'll have another go with it next time.
Verdict
I would definitely recommend this method - it is very easy and fulfilling. As I couldn't upload my data to the app I didn't feel like I was contributing to scientific research, but I certainly still felt like I was contributing to conservation.
It can sometimes be disheartening when it isn't possible to pick up all the rubbish you see on the beach, but I've found it useful to remember that whatever you can do will still help to make a difference.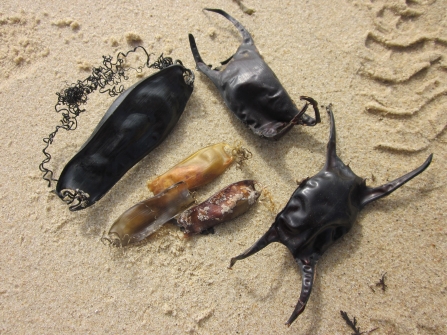 Great Eggcase Hunt - find and record shark eggcases
Difficulty level: 2/5 (easy).
Activity level: Walking and bending down.
Age level: Both children (with supervision) and adults.
Time needed: No time specified.
Equipment needed: Mobile phone or computer for submitting data. Containers for transporting eggcases might also be useful.
I used this method on two occasions: at Hurst Spit for the Wild Day Out and then again at Milford on Sea. On both occasions it took about 30 minutes, and I found a number of shark and skate eggcases. I managed to identify most of these using a leaflet from the Shark Trust (who run the initiative) and submitted the data using their website.
Positives
With no time or space parameters it's very easy to use this method, and I really enjoyed how successful you can be - once you know where to look it's amazing how many eggcases you can spot.
Sending in photographs and specific locations meant I felt like my finds would be taken seriously and genuinely contribute to scientific research, which was really exciting. I found the Shark Trust's website easy to use, and there was a useful option for submitting unknown or degraded specimens.
Negatives
As with the 2 Minute Beach Clean I had problems with the initiative's app - in this case I wasn't able to find it to download it. Although submitting my data via the website was easy it was a bit time-consuming to identify, photograph, and then submit everything this way.
It can also be difficult to transport the eggcases home in one piece if you want to submit your data retrospectively; they can be fragile when dried out so you need to go prepared with something to carry them in.
Verdict
I found this method enjoyable, educational, relatively easy, and a good activity to do either in a group or alone - I would definitely recommend it. 
Using this method has allowed me to start to get my eye tuned in to searching the strandline for eggcases and learn which features are most helpful in identification. I have also started to notice which species are most frequent in my area.
Do your bit
Huge thanks to Katie for her brilliant reviews of these citizen science initiatives! Citizen science is vital to our conservation work, so is a great way to support our marine wildlife.
There are loads of fantastic initiatives locally and nationwide, from reporting marine mammal sightings to seeing what species you can find on our shores. No matter what your interests, availability, or access to the coast, you're sure to find one that suits you.