My Wild Life: Natalie Harris
Natalie, one of our Marine Champions, shares why she's passionate about our seas and why everyone should take a stand for nature.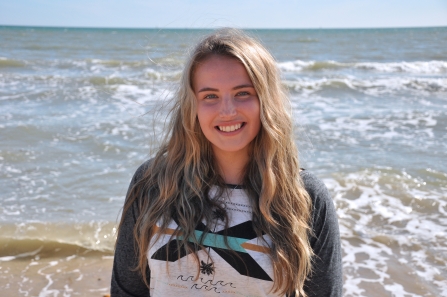 Hi I'm Natalie – I'm 21 years old and am a personal trainer living in the New Forest.
I spend as much time as possible out in nature – whether that's on the beach, in the forest, or just in my back garden. I have always lived on the coast and love being down by the sea, doing my bit to save this vital environment. With more than half of our oxygen coming from the ocean we must look after it. As Sylvia Earl puts it, 'No blue, no green' - it's that simple. But it's not just about survival: it's about the beauty of nature and respecting the fact that we share our planet with all other species.
It fascinates me that many species have been around for millions of years, but it saddens and angers me that our impact is having such a detrimental effect. Some species that have been on this planet long before us simply can't cope with how we humans are mistreating it. This fuels my passion to help these animals, and to encourage others to live in a sustainable way. I want future generations to feel the same joy I do when I spot a seal bobbing in the water, a hedgehog exploring the garden at night, or even a bumblebee flying past.
Beginning my beach cleans
After noticing plastic washing up on the beach whilst on holiday I carried out my first ever beach clean. Loving the sea so much I thought it only right to look after my own local beaches as well, so when I got home I started cleaning several beaches in my area. But as much as I love doing it I knew the task was too great to tackle on my own, so I set up a page called Clean Our Seas on Instagram in 2017. I share photos of my beach cleans, pieces of rubbish I find, and plastic-free alternatives to help stop the problem at its source.
Beach cleaning is really easy - all you have to do is collect anything unnatural that doesn't belong on the beach and dispose of it properly. This means that anyone who is down on the beach can give it a helping hand by clearing even one piece of rubbish. As part of Clean Our Seas I also organise and run beach cleans both locally and at events further afield like the Boardmasters Festival in Cornwall. I plan to run five in my area this year and have run three so far, which together have collected 250 kg in rubbish. At my recent one in Barton, I had 70 people helping out which was fantastic.
I started my page as a way to find out more for myself on how I could help our beaches, but it soon became a page where I wanted to inspire others. As a way of spreading the message I write the words 'Clean Our Seas' in the sand after every beach clean, which is a non-destructive way of encouraging everyone on that beach to think about this issue. I ask followers of my page to do the same, and have now received photos of this from 18 countries; it's fantastic to think my message has gone international! I have also recently started a series of species identification posts to inform people about the wildlife they can help to save by carrying out beach cleans.
"The more people we have on board, speaking up for nature, the more hope there is of restoring it."
Becoming a Marine Champion
This summer I started volunteering with the Wildlife Trust as a Marine Champion on their Secrets of the Solent project. So far my experience has been fantastic - I went into it with no conservation qualifications but buckets of enthusiasm and eagerness to learn, so it was a real learning curve. I have attended two training sessions, and am going on one about biodiversity later this year. I'm particularly enjoying doing wildlife safaris on the Wightlink ferries, where I talk to people about our marine life, and I look forward to organising my own events in the future with the aim of educating and inspiring others. I love being hands-on, so am keen to do more intertidal surveys to find out what we have living on our shores, and to help organise more beach cleans in my area.
I decided to become a Marine Champion because I really believe that if people are made aware of what amazing wildlife we have locally then they are much more likely to want to protect it. Before I started Clean Our Seas I was unaware of plastic pollution, so was contributing to the problem without even knowing. Since then I have changed my lifestyle to be more sustainable, but that was possible simply because I have more knowledge about the issue now. If I can help teach and inspire others about our wildlife then hopefully they too will make more sustainable choices. Two years after starting the page I'm more enthused than ever to protect our coastlines and encourage others to feel the same connection I do with our oceans.
Looking forward
If you truly want to make a difference for nature I would say don't hesitate in taking action. With threats like global warming, deforestation, illegal poaching and pollution, our planet needs as many people as possible on its side going forward. The more people we have on board, speaking up for nature, the more hope there is of restoring it. In the next 10 years we need to drastically change how we treat the planet, and young people need to push for these changes if they want to secure their future. No matter how small you think your contribution is remember that it all helps: we can't all do everything, but everyone can do something.
What can you do?
Many thanks to Natalie for sharing her inspirational story with us! If you'd like to join her in making a difference for our marine wildlife, why not consider becoming a Marine Champion too? There are several different roles and you'll receive all the training and support you need.