Enjoy our glorious coast and help to protect local marine wildlife with our intertidal surveys. We meet roughly twice a month, between March and September, at coastal locations across both Hampshire and the Isle of Wight.
Each survey lasts around two hours, and involves surveying a stretch of shoreline to identify and record marine species. We usually use the Shoresearch methodology in the form of walkover surveys.
The data you collect on these surveys is an invaluable help to our conservation activities and supports our efforts to secure legal protections like Marine Conservation Zones.
Due to Covid-19, our surveys are running a bit differently at the moment. Precautions include smaller groups, social distancing, and reducing the sharing of equipment. We're currently asking that only experienced surveyors attend, but hope to welcome new ones soon. If you have concerns please get in touch.
Our intertidal surveys currently form part of Secrets of the Solent - an exciting marine project supported by the National Lottery Heritage Fund. Through this project you can also lead surveys as a Marine Champion.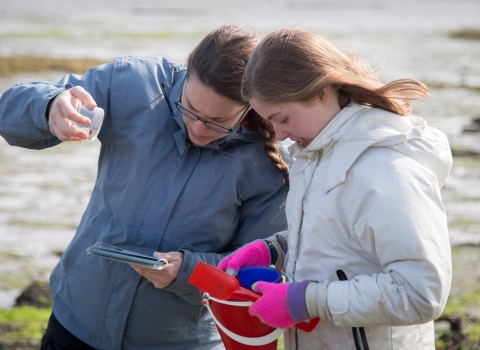 Who can participate
You don't need any special knowledge or experience to take part in our intertidal surveys, but you must be either over 18 or over 16 and accompanied by a participating parent or guardian.
If you haven't been on a survey with us before, or want to refresh your skills, we offer an optional annual training course. This runs each spring, and is designed to help you get the most out of your time on shore. Keep an eye out for our next session date.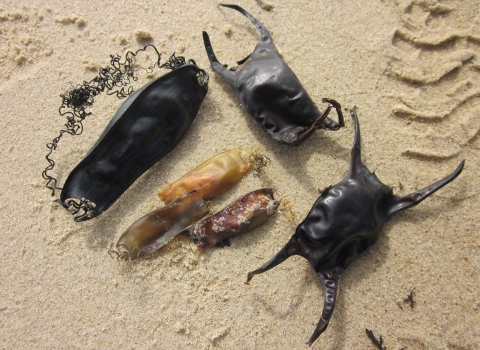 What to bring
- Warm, weatherproof clothing and a hat.
- Sturdy (ideally waterproof) footwear with good ankle support.
- Sun protection and water if it's a sunny day.
- Washing up gloves to keep your hands warm when rummaging in rockpools.
- A hand lens and guide to sea shore species if you have them.
- A camera or smartphone for recording your finds.
- A drink and a snack.
Registration form
Health and safety information