Many people across our two counties are doing remarkable work to help nature recover and create a wilder Hampshire and Isle of Wight. The Wilder Annual Awards allows us to share your achievements with others and celebrate those making a difference for wildlife and the environment.
Every year, we will celebrate the achievements made by individuals, groups, and organisations who are leading the way to nature's recovery. This year's awards will be presented as part of our virtual Wilder Festival on the 19th and 20th June. 
This year, we had a total of eight categories of awards, some we nominated internally and others were nominated by you! Expert panels of judges consisting of senior staff members and our Trustees selected the shortlist and winners for each award. 
The award categories are listed below. 
Brough Naturalist Award
Business of the Year Award
Norman Pasley Award for Campaigner of the Year
Group of the Year Award
The Champions and Leaders of the Year
Outstanding Contribution
Wild Card
Wilder School of the Year Award
Brough Naturalist Award Shortlist
Meet the amazing individuals wanting to discover the natural history of our local wildlife!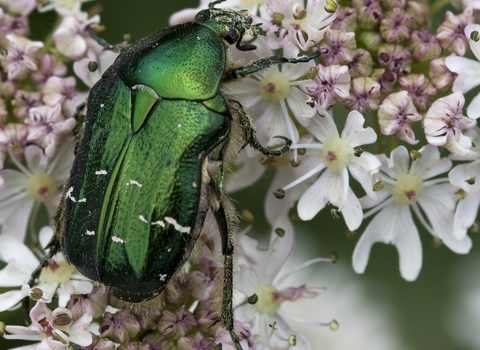 Dr Deborah Harvey from Royal Holloway
Dr Harvey is a lecturer in ecology and conservation at Royal Holloway University of London. She applied for the Brough Naturalist Award with a proposal to carry out a mark-release-recapture monitoring programme for the noble chafer in the New Forest. The noble chafer is known to be present in the New Forest, but no one knows its precise distribution and size of population. Citizen Scientists from across the national park will be trained to place traps and monitor them on a daily basis across the flight season of the beetle.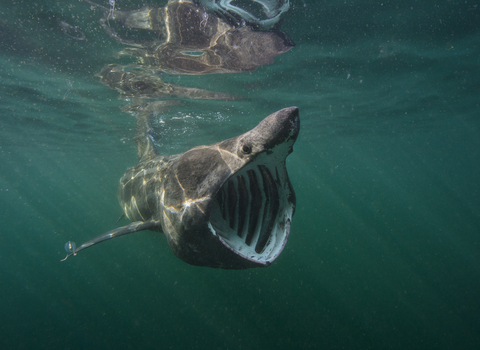 Yolanda from Portsmouth
Yolanda Evans is a 16-year-old shark enthusiast and hopes to one day work with them. She applied for the Brough Naturalist Award with a proposal to conduct a study on sharks that inhabit the waters around the Portsmouth area and how fishing and trade in the ports affects their behaviour.
Business of the Year Award shortlist
Meet the businesses who're making space for nature in their workplaces!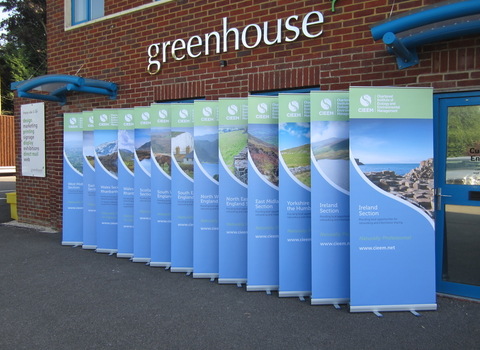 Greenhouse Graphics
A graphic communications company based in Basingstoke in North Hampshire. They are widely recognised as a leading centre for sustainable graphic communications in the UK. An actively environmentally vigilant company, Greenhouse has been working with and supporting the Trust for a number of years and is committed to protecting biodiversity and minimising their ecological impact.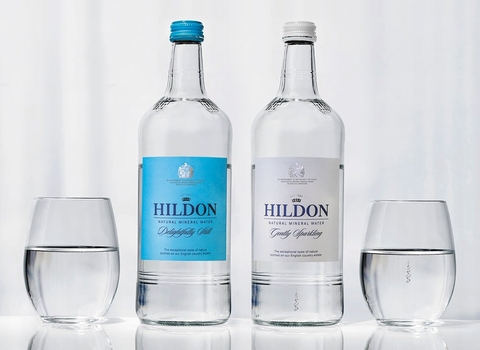 Hildon Ltd
Supplier of natural mineral water, Hildon pride themselves on the pristine taste of their product and their defence of the rich diversity of wildlife around them. They are involved in a number of ways, from beekeeping and tree planting to the use of renewable energy and supporting youth engagement through our Wildlife Watch scheme. Hildon understand the importance of nature to their business and is striving to protect it.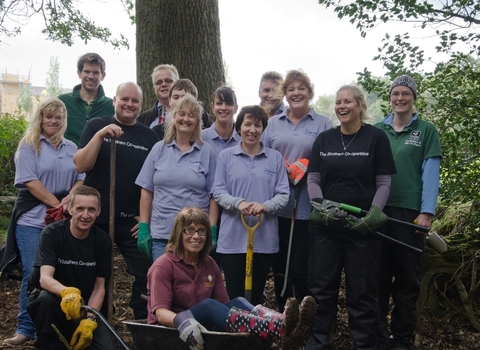 Southern Co-op
Long term partners of the Trust, Southern Co-op puts sustainability at the heart of everything it does and is committed to helping build a fairer society and more sustainable world. They have been an important partner in the introduction and rollout of the Trust's flagship Team Wilder programme and have taken great steps on their own estate to understand and enhance the biodiversity that lives there.
Norman Pasley Award for Campaigner of the Year
Meet the individuals dedicated to making positive changes for our future.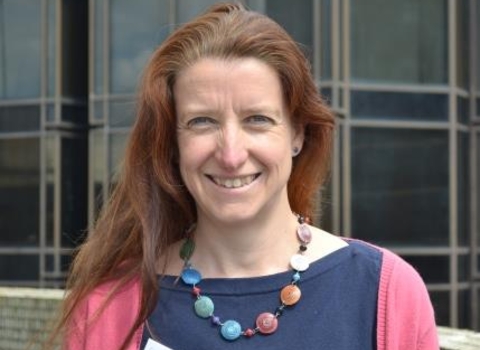 Clare from Portsmouth
Clare launched the "Plastic Free Portsmouth" back in 2018, a campaign to get the city to be deemed a "Plastic Free Community" by marine conservation charity, Surfers Against Sewage. She's worked tirelessly with the council, businesses, schools, and community groups, mainly focusing on eliminating single-use plastic. And in March this year, Portsmouth was finally recognised as a plastic free community. By no means is this the end of the journey, but it certainly is a very good start!
Community member, Jeanette, says, "Clare is totally open and inclusive and gently persuades friends and neighbours to be more green minded. She is an inspiration to us all and with her open communications and activities, sets an example for us all to follow but not in a preachy way!"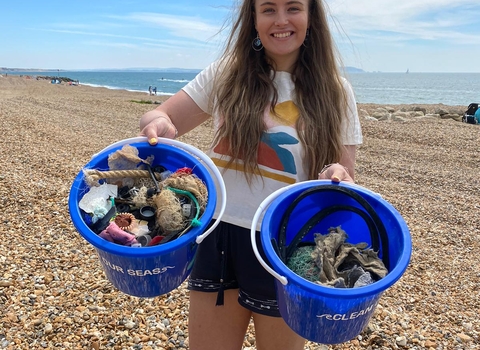 Natalie from the New Forest
Natalie joined the Trust as a Marine Champion with our Secrets of the Solent project back in 2019. Since July 2017, Natalie has been cleaning beaches and encouraging others to do so with her Instagram account, Clean Our Seas, which now has over 20,000 followers.
Clean Our Seas raises awareness of plastic pollution around our coastlines and the possible harm it can cause to our wildlife. By sharing photos of her beach cleans, Natalie aims to encourage others to take up beach cleaning too. She also shares information about her community clean ups so people can join in. "I want to show people how everyone can participate in beach cleaning. You don't need any fancy equipment and it doesn't have to take hours, just by picking up and safely disposing of any non-natural materials you see on the beach we can all work towards cleaner, safer beaches for ourselves and our wonderful wildlife."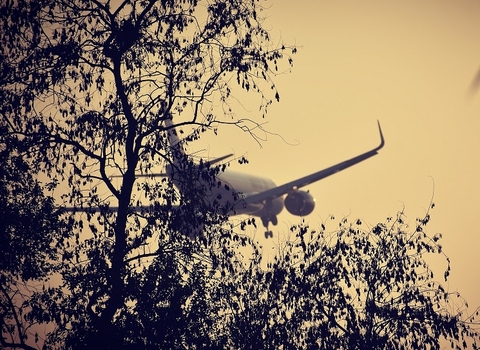 Lyn from Southampton
Lyn is a key member of the Airport eXpansion Opposition (AXO) as they campaigned tirelessly to prevent Southampton Airport from going ahead. She was an integral part of the campaign, doing a great part of the leafletting and lobbying.
Recently, Eastleigh councillors voted for the airport expansion, but AXO are not giving up! They've asked the Secretary of State to call-in the decision on these grounds:
Lyn is part of Friends of the Earth and Greenpeace in Southampton. Not only is she involved with AXO, but she's also been a part of campaigns in Southampton to increase amount of cycle lanes.
Wilder School of the Year
Meet the schools who're teaching our future generations how to take care of our natural world.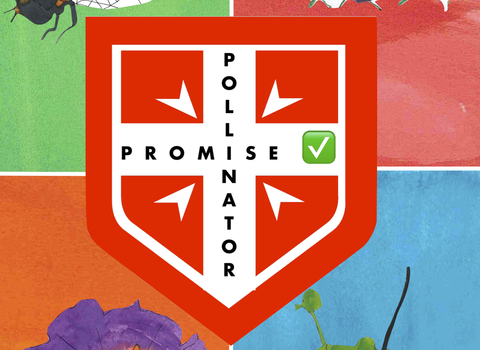 St Alban's Primary School
St Alban's Primary School strives to create an environment where their pupils and nature can live in harmony together. The grounds unite everyone with a common purpose, connecting each other and with nature. Through engaging with nature, they develop a sense of place and community. Their goal is for pupils to develop a love and respect for themselves and the natural world, leading to pro-environmental behaviours that benefit both people and the planet.
The school grounds are made up of a mosaic of different areas, creating a range of habitats for wildlife, learning and wellbeing. The school are involved with many projects including PolliPromise, a great initiative with 2047 promises so far.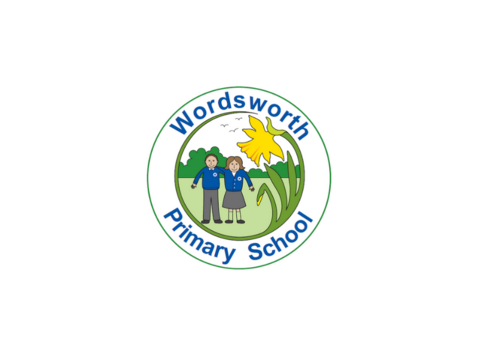 Wordsworth Primary School
In the last 5 years, Wordsworth Primary School has rolled out an innovative programme of outdoor learning which has impacted dramatically on all aspects of learning and teaching within the school. Central to all of this has been the school's Nature Zone which was originally set up by some of the older children and which is now used by all children at the school. The space has also been used for training new and current teachers in order to encourage the use of the great outdoors as a learning resource.
The school have enhanced the grounds for wildlife, including a new woodland has been planted, a wildflower meadow created and the pond which has been managed to increase biodiversity. Last year a small orchard was planted. The Nature Zone is now home to 15 species of tree and the meadow has 40 species of plant.
Group of the Year
Meet the groups who're making space for nature in their communities.
Friends of Peartree Green
Friends of Peartree Green formed in 2015 as a group of local residents who wanted to achieve Local Nature Reserve status for Peartree Green in Southampton. Two years later, Local Nature Reserve status was achieved, and the group set about engaging more community members with nature and encouraging more environmentally aware behaviour. In collaboration with Southampton City Council, the site owners, a programme of conservation work is followed to manage the habitats and encourage biodiversity.
From litter picks to guided walks, the group are introducing local residents to the nature that is on their doorstep and helping them to understand the importance of making space for it.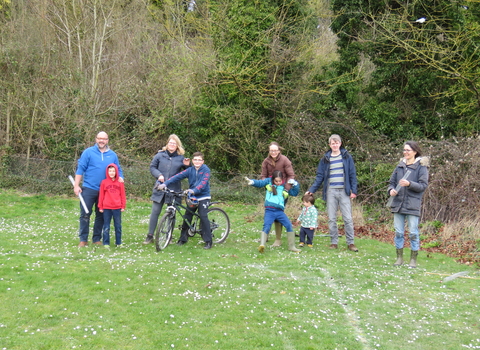 Greener Villages
Greener Villages is a Wilder Community Group based in the Test Valley. In 2019, the group launched its first community event, an event to explore the appetite in the community for environmental action. There was a lot of enthusiasm for taking action around biodiversity loss, waste, and pollution. The group brings together three villages: Wherwell, Chilbolton, and Leckford and as such are trying to take a more holistic view by engaging people in the areas where they have interest. They've undertaken activities such as talks, have planted 100 trees, have set up a seed exchange, and are currently transforming an unloved area into a wildlife and relaxation area. In the future, they'd love to work with other parishes or villages to create a wildlife corridor.
Champion of the Year
Meet the champions who're leading the way in making wilder spaces in their communities.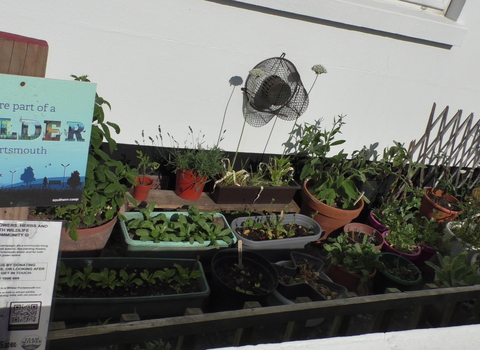 Mathilde from Portsmouth
Mathilde is a Wilder Community Leader and Wilder School Leader in Portsmouth and has been a part of our Team Wilder initiative since its launch in 2020.  Mathilde has been an amazing ambassador for the Trust's Wilder Streets project in Portsmouth. She started by making her front garden and window a space for wildlife to thrive and a space where people can connect to nature. Neighbours, refuse collectors, and delivery drivers have all stopped to take a look at the display. From there, Mathilde has used Wilder Streets to engage different neighbours, from encouraging a "pavement weed killer" to preserve the tiny patches of nature to helping an elderly neighbour grow vegetables in her front garden.
Mathilde's wilder journey is such an inspirational example of how making space for nature starts at home, but ends in your community.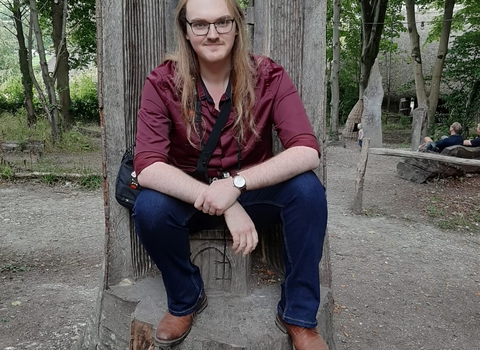 Ben from greater Southampton
Ben joined the Secrets of the Solent project back in 2019 as a Marine Champion. Ben is always the first to volunteer for any new events or tasks. He always gets stuck in and uses his skills and passions to further our work within Secrets of the Solent. He is an excellent scientific communicator, able to break down challenging concepts to a wide range of audiences. Very friendly, knowledgeable and an asset whenever he works at an event. He's always coming up with clever ideas regarding engaging activities to bring people to the stall and help them learn about the marine environment.
Community Engagement Officer, Emily Stroud, says, "Secrets of the Solent would be the poorer without him and he deserves recognition for all his time and hard work over the last two years."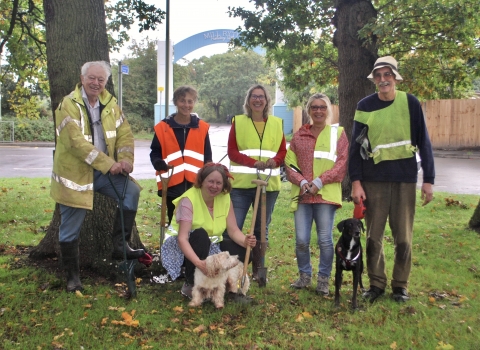 Netty from Hayling Island
Netty is a Wilder Community Leader, leading the community group Wildflower Island based on Hayling Island in Hampshire. Inspired by wildflower verges that were popping up in Rotherham and other areas of the UK, Netty thought she could easily do something similar on Hayling Island. She contacted a few councillors in the area to get them on board and within months, Netty and a group of other like-minded individuals were planting bulbs in a large grassy area by Mill Rythe School. Once the pandemic is over, Netty hopes to plant more wildflowers in other areas of the island.
Wild Card
Meet the inspiring people who have thought outside the box to get more people on nature's side!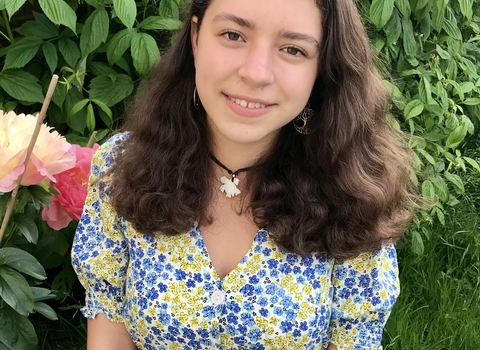 Eve from Portsmouth
Eve is running a campaign to keep Castle Road in Southsea a cyclist and pedestrian only zone. Portsmouth City Council closed the road last year to aid social distancing, but with lockdown restrictions easing, the vehicle restrictions are set to be lifted, too.
The road is situated near Portsmouth High School and its closure has meant that students can safely cross the road and has brought a sense of community spirit to some businesses with restaurants placing seating outside and installing planters brimming with wildflowers. Closing roads is such a fantastic way to make space for nature, especially with placing planters and reducing air pollution levels, and it's also a great way to bring the community together. We wish Eve the best of luck with her campaign!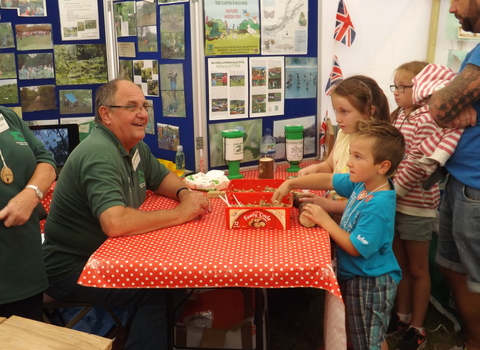 Colin from Southampton
In 1988, when Colin found out that the wildlife he loved since he was a boy was to be destroyed and developed into a shopping centre and car park, he rallied a community of likeminded individuals to protect it. The community group won, and Sholing Valleys Study Centre was set up as a charity to help preserve Miller's Pond and the surrounding habitats. In doing so, Colin ensured that future generations could learn about these 20 acres of urban sanctuary and grow their own appreciation of nature, as he had as a child.
33 years later and Colin is still at the centre of the hive of activity. Involved every day, despite running his own business and having a family. Along with him being the charity's Chair and looking after so much of the day-to-day admin, he still finds time to walk around the reserve several times a week to do the thankless task of emptying the bins and litter pick.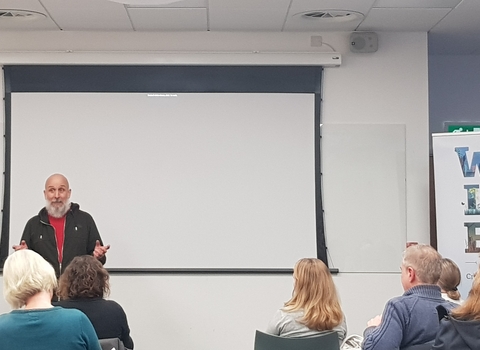 Ian from Isle of Wight
Ian has worked in environmental conservation, ecological management and public engagement roles for over 30 years. He founded the Island 2000 Trust, the conservation charity Gift to Nature and inaugurated the Newport Rivers Group and Island Rivers. He has worked for national and local charities, public sector and in private practice at locations across England and Wales. He has managed coastal and freshwater reserves in Suffolk and Kent, upland rivers in Cumbria and lowland rivers on the Isle of Wight. He has experience in public engagement through event management (including major festivals the Isle of Wight Festival and Bestival), catchment hosting, community consultation and 'planning for real', school and youth work. He has been a sessional lecturer in environment and countryside at the Isle of Wight College since 2008.
Outstanding Contribution
Meet the amazing people who've made extraordinary contributions to the Trust and for whose invaluable support over the years we are truly grateful.
Mary from Winchester
Mary has performed a huge variety of important roles for the Trust over many years. A long-standing member, she is a regular active conservation volunteer, event organiser, fundraiser, donor, and advocate. She served as a Trustee for 12 years and as Treasurer. She continues to give many hours of her time to wildlife and to the Trust.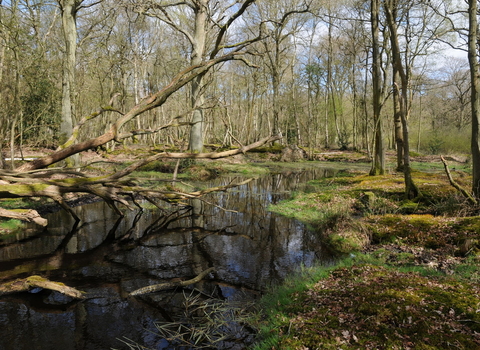 John from North East Hampshire
John Ayres has volunteered for Hampshire & Isle of Wight Wildlife Trust for over 40 years and is not planning on stopping any time soon. Over the years he has been the volunteer reserve manager for Ancells Farm and is currently an active volunteer with the NERTs (North East Reserves Team). He is an active member of the Hart & Rushmoor Local Group and grows plants and builds bird boxes to raise funds for the Trust every year at local shows. John, you're unstoppable!