Seagrass provides a complex habitat for marine life to forage for food, breed and shelter from predators. Seagrass meadows are hugely important for marine wildlife. The dense cover acts as a nursery for juvenile fish and crustaceans, while seahorses use their tails to anchor themselves to the grass. The fish that mature in the safety of the seagrass meadows then contribute to the fish stocks that our fishing industry relies on.
The plants' dense network of roots and rhizomes binds sediment together making the sand or mud more stable and slowing down coastal erosion. Seagrass is also a globally important carbon sink that can store carbon 35 times faster than rainforests
Project objectives
By learning about where seagrass exists now and where it is no longer present, we are better able to understand and protect it. Staff and volunteers from the Trust have been visiting local seagrass sites and conducting annual surveys.
The project involves many partnership organisations who have contributed historical data or assisted on recent surveys. We have gathered historical records of seagrass around our counties from numerous sources and added it to our own data to compile an inventory of seagrass for the Hampshire and Isle of Wight area.
The report below details the biology and ecology of seagrass, current threats, conservation and management options and our survey and monitoring techniques. The data section (including site maps and inventory forms) is available by request.
Project partners include the Southern and Sussex Inshore Fisheries and Conservation Authorities (IFCAs), Southampton National Oceanographic Centre, Environment Agency, The Isle of Wight Council and Seasearch divers.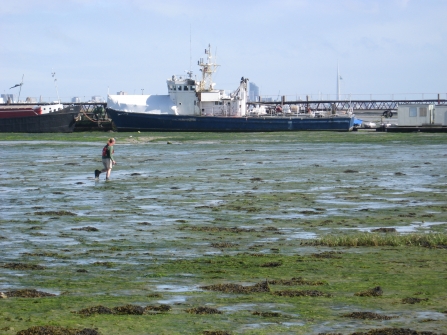 Seagrass surveys 2018
Mapping: This year we're focusing on monitoring seagrass beds within recommended or designated Marine Conservation Zones and those vulnerable to damage from fishing activities. We also plan to return to areas which have not been surveyed for several areas in order to keep our data as current as possible. This information is used by Natural England and the Southern and Sussex Inshore Fisheries and Conservation Authorities (IFCAs) to manage and protect the seagrass.
Baited cameras: Following work done in partnership with the University of Swansea in 2012 we hope to carry out some baited remote underwater cameras (BRUVs) to observe marine life without disturbing the sensitive seagrass beds. You can watch highlights of footage recorded in Wales at the Seagrass Ecosystem Research Group website.
Get involved
If you spot any seagrass, whether on land or on water, let us know by emailing marine.enquiries@hiwwt.org.uk