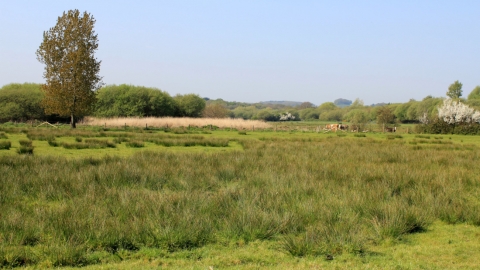 Sandown Meadows Nature Reserve
A haven for a wealth of different species

Location
Know before you go
Entry fee
Donations welcome
Parking information
No parking available
Grazing animals
Cattle
Walking trails
This land is low-lying and prone to flooding in the winter months. There is a riverside walk away from livestock - the path is unsurfaced and uneven. A public footpath runs across site. 
Access
Train station: Sandown (¼ mile). Exit station from north and turn right onto Perowne Way. 100m after passing Central Way on left, follow road to left towards Fairway Holiday Park, then turn left onto Yar Valley Trail towards Alverstone.
Bus stop: Sandown High street/ Victoria Road, Sandown (1 mile). Newport to Ryde route (Southern Vectis). Walk up high street  turn right onto St Johns Road and after 100m turn onto Station Avenue. Cross over Broadway and continue on Station Avenue for 200m. Turn left onto Simeons Path that crosses railway line after 150m. Follow directions above. 
Contact the Trust for disabled access information. 
When to visit
Opening times
Open at all times
Best time to visit
Visit in summer and look out for warblers and kingfishers. Listen for the distinctive plop of a water vole jumping into the water.
About the reserve
A diverse mix of wetland habitats make Sandown Meadows a wonderful place to embrace the outdoors at any time of the year.  Watch out for the bright blue and orange flash of a kingfisher diving in the water for fish, or the silent heron poised at the water's edge, ready for action. Birds such as coots and moorhens pick their way through the long grass and reeds around the ditches. You may hear the tell-tale 'plop' of a water vole as it makes a quick getaway. 
Dusk is the best time to look across the fields for barn owls silently hovering above the grass, hunting for mice and voles. In the summer, enjoy the song of Cetti's and reed warblers, and the chattering of long-tailed tits in the reeds. In winter, watch wildfowl and waders such as shovelers, teals and lapwings come to feed and roost.
Plantlife is abundant here too – look out for the beautiful white cuckoo flower in spring, and the species that feeds on it, the orange tip butterfly. Later on in the summer see if you can spot the pink spikes of southern marsh orchid or the marsh cinquefoil.
Sandown Meadows nature reserve is a key part of a network of wildlife sites along the Eastern Yar creating an unbroken habitat for wildlife. This site was bought by the Trust in 2012 with help from our members and supporters and through a gift in the Will of Isle of Wight resident, the late Cathleen Cooper.