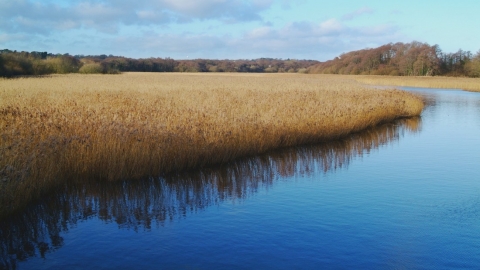 Lymington Reedbeds Nature Reserve
Wonderfully wild reedbeds home to a host of fascinating wildlife
Location
Know before you go
Entry fee
Donations welcome
Walking trails
Unsurfaced paths can be very wet and muddy
Access
The site can be accessed from Marsh Lane or Ampress industrial park on the west side, or from Under Shore Road on the east.
A bridleway runs along the north eastern edge of the site (this can get very wet in places). There is a footbath up the west side with an access point opposite the allotments on Marsh Lane. This runs through the wet woodland and the path can be very muddy.
When to visit
Opening times
Open at all times
Best time to visit
Sumer is an excellent time to visit as you may see otters, water voles, Cetti's warblers and snipes.
About the reserve
Lymington Reedbeds nature reserve is home to a range of fascinating species. Sea birds are abundant and warblers sing all through the year. Migratory birds return to the reedbeds time after time, and during the winter the reserve come to life with waders and water fowl. If you're lucky, you may even spot an otter or a water vole.
Whether you're a keen birder or simply looking to reconnect with nature, Lymington Reedbeds Nature Reserve is a wonderful place to visit.  
Habitat
Environmental designation
Site of Special Scientific Interest (SSSI)