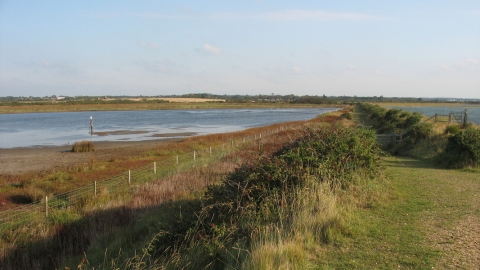 Lymington and Keyhaven Marshes Nature Reserve
A coastal reserve offering fantastic views
Know before you go
Entry fee
Donations welcome
Parking information
Parking available at Keyhaven Village, Lower Pennington Lane, Lymington Quay and marinas.
Bicycle parking
None on the reserve, some on Hampshire County Council site nearby
Grazing animals
Not on our reserve, but the seawall path from which you view the reserve has grazing cattle and could have ponies.
Walking trails
Please keep off the marshes to avoid disturbing the sea birds. The reserve is an intertidal mudflat and saltmarsh, so access is difficult and potentially dangerous. A network of footpaths on the Hampshire County Council reserve including along the seawall afford views across the marshes.
Access
No direct access onto the marsh, the site can be viewed from the sea wall, which runs around the Hampshire County Council's Lymington and Pennington Marshes reserve. Between Keyhaven and Lymington, the seawall path is accessible from both ends and from Lower Pennington lane - look south to see the reserve.
Dogs
Guide dogs only
Guide dogs and Assistance dogs only. Otherwise dogs under control allowed on seawall path beside reserve, but note NO DOGS on the reserve itself
When to visit
Opening times
Open at all times.
Best time to visit
Visit in spring to see arriving migrants such as wheatear, swallow, terns. Winter brings large flocks of brent geese, wigeon, pintail, waders.
About the reserve
The seawall offers stunning views across the mudflats, where a wealth of different bird species come to feed. Large numbers of Brent geese seek refuge here in the winter, along with roosting dunlin, black-tailed godwit and grey plover. 
The salty mud creates an idyllic habitat for plants such as yellow-horned poppy, sea campion and sea aster, and healthy fish populations make the marshes a fantastic place for sandwich and little terns, black-headed gulls, and cormorants. Keep your eyes peeled for hunting birds of prey, including marsh harriers, peregrine falcons, and merlins.
Habitat
Environmental designation
Special Protection Areas (SPA)