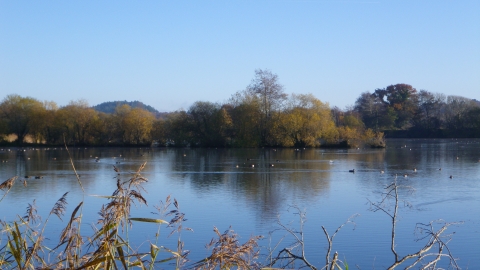 Blashford Lakes Nature Reserve
*ACCESS RESTRICTIONS THIS WINTER*

There is NO access over the boardwalk connecting Ivy South Hide with the Ellingham Lake walk.

With many thanks to everyone who gave to our appeal for donations to replace this deteriorated boardwalk we are pleased to report that work to replace it has now begun. Unfortunately this does necessitate the closure of this part of the route while the existing boardwalk is removed and the new one constructed and we apologise for the inconvenience that this will cause for the duration of the work. Please check the website and blog for updates on the work and, in the meantime, please observe and abide by the warning signs and path closures. Thank you.

COVID 19:

The hides at Blashford Lakes Nature Reserve are OPEN daily, 9am-4.15pm.

We want to keep everyone feeling confident and safe when using the hides and are therefore asking you to help us to achieve this by:

- wearing a face covering when in the hide
- opening sufficient windows to establish air circulation
- maintaining at least 1 metre (3 feet) distance from persons with whom you are not connected

The Education Centre (including the toilets) will remain closed to the public for now, but we will keep this under review. In the meantime we will continue to provide accessible and standard portable toilets for our visitors convenience and comfort.

The footpaths are open as normal (please note that due to longstanding difficulties with the leasehold outside of our control the closed footpath between Tern and Goosander Hides will remain closed).
Location
Know before you go
Entry fee
Entry by donation – suggested donation £4
Parking information
The main car park is on north side of Ellingham Drove. Education Centre parking is on the south side of Ellingham Drove.
Bicycle parking
At the Education Centre
Grazing animals
New Forest ponies (in the summer)
Walking trails
There are 8km of rolled gravel paths suitable for wheelchairs and electric buggies. Gates are accessible with RADAR keys. Hides have ramped access, but are not suitable for electric buggies.
Please note that the boardwalk between Ivy South Hide and the Ellingham Lake walk is currently closed to mobility scooters and large/heavy wheel-chairs - we apologise for the inconvenience that this causes and will remedy the situation as soon as funding allows us to replace the boardwalk.
Public footpaths enter the site from the south (Ringwood) and east (Moyles Court).
Access
09:00-16:30 opening includes car parks hides, Education Centre and toilets. Paths are accessible by foot at all times.
Public Transport
The X3 bus between Bournemouth and Salisbury stops at Ellingham Cross; currently a half hour service in both directions.
Dogs
Guide dogs only
Other visitors with dogs may park at Moyles Court & from there walk a circular route via the public footpath along the Dockens Water to the permissive footpath between Ivy Lake & Rockford Lake & back via the Avon Valley Long Distance Footpath.
When to visit
Opening times
Open 9am - 4:30pm every day but Christmas Day.

SITE CLOSURE UPDATES:
If the Meterological Office has issued weather warnings we may close the site to ensure visitor safety both during the weather episode and immediately following it until we have undertaken site checks and are satisfied that footpaths are accessible and safe.

With only a very small staff team it is possible that requirements for one of us to self-isolate due to COVID-19 could also necessitate a site closure with little or no notice.

All site closures will be posted as soon as is possible on this website and/or the Blashford Lakes Blog: https://blashfordlakes.wordpress.com/ - if in doubt please check this before travelling to the nature reserve.
Best time to visit
This reserve is spectacular in the winter, when huge flocks of overwintering birds fly onto the lakes to roost. Spring is a great time to see warblers and the wild daffodils in flower. Summer for observing many dragonfly species.
About the reserve
A beautiful patchwork of wildlife rich habitats.
It's hard to believe that Blashford Lakes nature reserve used to be a series of lifeless gravel pits when you consider the brilliant array of wildlife it now supports. The woodlands, lakes and grasslands at Blashford hum with life and vitality, attracting a plethora of wild birds such as redpolls, bitterns, bramblings and kingfishers. 
With six bird hides and 8km of rolled gravel paths, bird-watching has never been easier. Up to 5,000 birds can been seen at Blashford Lakes during the winter - some birds travel all the way from Scandinavia to spend their winters here! Common terns, lapwings and oyster catchers are often seen feeding on the lakes.
During the spring you may be lucky enough to catch a starling murmuration. Summer is also an excellent time to visit; great clouds of dragonflies and damselflies sparkle like jewels in the sun and bluebells and daffodils carpet the woodland floor. Blashford Lakes is a wonderful place to visit, whether you're a veteran birder, a keen walker or simply enjoy being among nature.
Blashford Lakes has its very own Education Centre, a hive of activity and learning, fully equipped with a large classroom, toilet facilities and two mobility scooters which can be hired out by prior arrangement. We have reviewed our COVID-19 precautions and are open for booked groups to visit us in line with current Government guidance. To find out more, please visit the Blashford Lakes Education Centre webpage.
Environmental designation
SAC SSSI
SPA