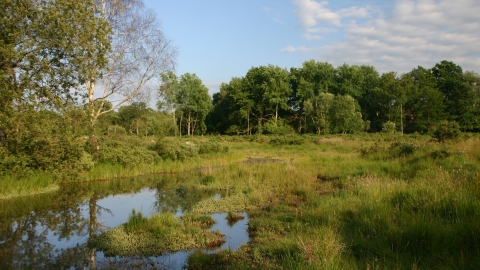 Ancells Farm Nature Reserve
A special reserve home to a rich variety of wildlife
Know before you go
Entry fee
Donations welcome
Parking information
Parking for two vehicles on tarmac slope at entrance to reserve. Additional parking available at Ancells Community Centre.
Bicycle parking
Not suitable for bicycles.
Grazing animals
Cattle
Walking trails
A short, gravelled path around a small section of the site leading to the boardwalk by the pond.
Access
A gravelled path leading to the boardwalk by the pond. The rest of site is wet heath.
When to visit
Opening times
Open at all times
Best time to visit
June to September to see lizards on the boardwalk, sundews on the scrapes, dragonflies and damselflies hunting over the pond and beautiful flowering orchids.
About the reserve
Ancells Farm nature reserve is a site of special scientific interest, renowned for its great varieties of flora and fauna. Dainty stonechats and the delightfully fragrant bog myrtle are abundant all year round, and during the spring and summer the reserve comes to life with glittering clouds of dragonflies and damselflies. Newts, toads and frogs are also a common sight.
The abundance of flying insects makes the reserve a popular feeding spot for bats, which can be seen darting through the air on warm summer evenings.
Ancells Farm supports a multiplicity of wildlife that is wonderful to see, but if you plan to visit, please take care as this nature reserve is sensitive to disturbance.
Habitat
Environmental designation
Site of Special Scientific Interest (SSSI)