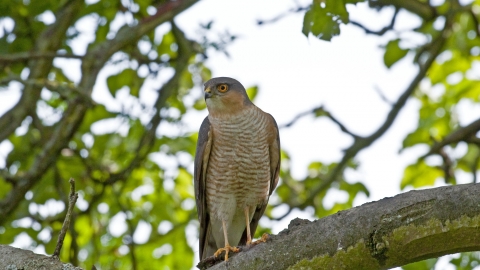 Greywell Moors Nature Reserve
An exquisite combination of spring-fed fen and wet woodland
Location
Know before you go
Entry fee
Donations welcome
Parking information
Park on the left hand side of an approach drive to the pumping station on Deptford Lane. Please keep vehicle access to pumping station clear.
Grazing animals
Cattle
Access
Permit required if you wish to visit the northern part of the reserve. Please avoid the marshy areas as these are sensitive to trampling and can be dangerous to cross.
When to visit
Opening times
Open at all times
Best time to visit
Visit in spring to see a beautiful display of wildflowers
About the reserve
Greywell Moors nature reserve is a nationally important fenland, renowned for its population of sedges, rushes, mosses and liverworts. Small animals and invertebrates thrive in this flower-rich habitat, as do our conservation herd which can be seen grazing throughout the year.
Stroll through the open fen meadow to discover a great variety of flowering plants, including southern marsh orchids, hemp agrimony, and purple and yellow loosestrife.
The fen is fed by a series of springs which form where cracks in the chalk bedrock allow water to bubble up from the aquifer below. These crystal clear pools support brooklime, forget-me-nots, water mint and other aquatic plants.
Small pockets of woodland host fabulous displays of primroses which can be seen from December all the way through to May.
The variety of habitats at Greywell Moors make this nature reserve very attractive to butterflies and birds - reed warblers and reed buntings can be heard singing, and snipes, sparrow hawks and buzzards are frequent visitors.
Habitat