As part of The National Lottery Heritage Fund supported Down to the Coast partnership, we're helping young gain practical experience and qualifications, training the next generation of conservationists to care for our woodlands
East Wight woodlands
The east of the Isle of Wight is among the UK's richest areas for wildlife. Its woodlands are
home to wonderful wildlife including red squirrels, dormice, native bluebells and specialist plants such as narrow-leaved lungwort.
But these habitats are at risk of decline because there are fewer people with the skills to manage them.
Restoring our woodlands
Our Woodland Apprentice scheme is safeguarding these wildlife havens by training a new generation of woodland workers. Since the scheme began in 2016 a group of young apprentices have gained hands- on skills managing woodlands for wildlife. Under the guidance of Wildlife Trust staff, they have learned traditional conservation techniques like coppicing and hedge laying. These practices create a mix of habitats to suit a variety of species.
As well as helping to manage some of our nature reserves, such as Martin's Wood and Eaglehead Copse, the apprentices have worked on woodland owned by the National Trust, Forestry Commission, People's Trust for Endangered Species and privately owned woodlands. In total they aim to restore at least ten woodlands across the East Wight, which will contribute towards a connected network of woodland habitat for at-risk species.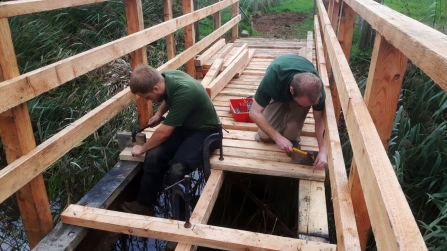 The apprenticeship provides me with an amazing opportunity to work with conservation experts in a variety of stunning locations on the Island. After months of being outside every day and learning different quirky ways of remembering their common and Latin names, I am definitely improving.
The Woodland Apprentice scheme has been made possible with the support of The National Lottery Heritage Fund, through the Down to the Coast project, and the Isle of Wight Foundation. Find out more by contacting Jamie.Marsh@hiwwt.org.uk