Woodland Apprentices: Looking to the Future
As Down to the Coast reaches its end, our Woodland Apprentices talk about their experiences and plans for the future.
Amanda Hollands
The Woodland Apprenticeship has provided me with both knowledge and practical skills, as well as helping me identify my strengths and weakness. This has helped me a great deal in pursuing a career in the environmental sector.
Jonathan Jewett
Prior to this apprenticeship my knowledge of the natural world was that of observed interest, without really knowing the intricacies of policies, farming impact, and management technique. Over the last 18 months my understanding of the human relationship with the natural world has broadened and been challenged.
With the training provided and opportunities granted it has been a wonderfully intense learning experience covering a wide variety of skills, academia, and local knowledge. The challenge ahead will be to create a career that utilises all this acquired knowledge.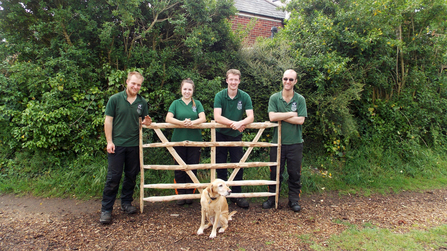 Joe Rackstraw
The Woodland Apprenticeship has given me an amazing opportunity to get into an industry which is becoming ever more important. During my time as an apprentice I have taken part in the management of many Isle of Wight nature reserves, varying from precious secondary woodland to rich chalk grassland.
I gained my chainsaw, brushcutter, tractor and quad bike licences, as well as my outdoor first aid certificate - all of these are essential for gaining employment in practical conservation and land management. The diversity of the work keeps each day new and interesting, which I greatly enjoy. There is always more to learn about things like habitat management and species identification, which will help me to excel in my career.
Recently I have managed to gain employment with Hampshire & Isle of Wight Wildlife Trust as an Assistant Reserves Officer. I work in the Solent area, covering key sites such as the Farlington Marshes and Swanwick Lakes nature reserves. The licences, training, and contacts I gained during the apprenticeship were key to securing this job and helping me to start a career in conservation.
Ben Shutler
The Woodland Apprenticeship really helped me take the first steps of my career working in the countryside. The training boosted both my CV and my confidence when I was initially applying for jobs. I hope there will be more apprenticeship schemes like this one, as its influence on me has been huge. 
I'm currently working for Morton-Pattison (Ecological Contractors) doing lots of conservation scrub clearance work for several Wildlife Trusts. We also have some big construction projects coming up, which I'm really looking forward to.
If it wasn't for the valuable skills passed on to me from our teacher Andy Toms and the rest of the Isle of Wight team, I wouldn't be working where I am right now -  in a wide variety of habitats across the South Coast, including chalk downs, lowland heaths, and wetlands.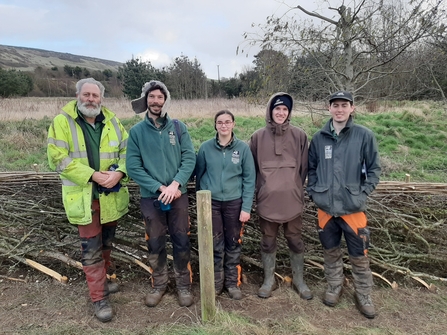 Jack Taylor
The Woodland Apprenticeship has been a fantastic opportunity to learn new skills and gain qualifications. It has allowed me to further my career path and make new friends in the process. 
James Warder
Being a Woodland Apprentice has helped me a lot, for example by allowing me achieve certificates in tractor driving, first aid, and using both a chainsaw and a brushcutter. It has taught me a lot about managing woodlands, and being taught a huge variety of woodland skills will definitely come in handy for years to come.
If someone had told me two years ago that I would be working for Hampshire & Isle of Wight Wildlife Trust as an apprentice - gaining loads of experience, learning new skills, and achieving certificates - I wouldn't have believed it was true. The staff at the Wildlife Trust have welcomed me and taught me so much, especially our teacher Andy Toms.