My Wild Life: Charlotte Teague
Charlotte, one of our Marine Champions, tells us about her lifelong passion for our seas and shares some simple and achievable swaps she has made in an effort to live more sustainably.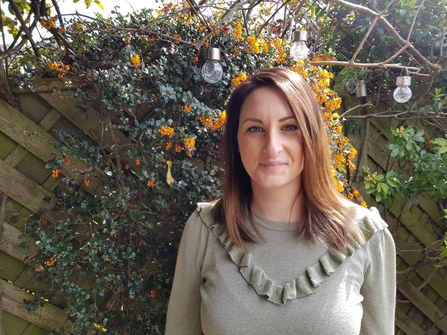 Hi, I'm Charlotte - I'm 35 years old and I am grateful to live close to the water in Warsash. I have loved the sea my whole life and, while growing up, I spent a significant amount of time on the beach, rock pooling and fishing with my family. As an adult, I went on to scuba dive and have explored both the local waters and some further afield. I was fortunate to spend two months in Indonesia researching traditional fisheries for my dissertation project, which formed part of my undergraduate degree in Marine Biology. I went on to study for a research master's degree in Geography. I have had a varied career to date, but one thing has remained constant: my love for the sea.
Becoming a Marine Champion
I became a Marine Champion because I wanted to inspire others to learn about the world of wonder that is right on our doorstep and how we can work together to enjoy and protect it for generations to come.
Swapping for Sustainability
I have just finished reading David Attenborough's 'A Life on Our Planet: My Witness Statement and a Vision for the future.' It sends a strong message. Each and every one of us has a duty of care to think about the way we live and to look for changes we can make to conserve our planet and rebuild a sustainable world. Volunteering as a Marine Champion encouraged me to seek out positive adjustments and to find ways that I can reduce my environmental impact to protect both the local and wider environment.
"Volunteering as a Marine Champion encouraged me to seek out positive adjustments and to find ways that I can reduce my environmental impact to protect both the local and wider environment."
I'm the first to admit that I've been aware of environmental issues for a while, and I perhaps have been a little ignorant to the repercussions of my choices. However, since being on this journey, I have not only realised how easy it has been, but also how satisfying it feels that I am now making my contribution. So, I wanted to share some of the smart swaps and actions I have made in the hope that it may encourage others to do the same. There is no time like the present to get going on positive change, so here are a few swaps I have made or actions I have taken:
#1 Swapping to a majority plant-based diet
I have found this swap surprisingly easy. I have gone from eating meat or fish seven days a week to now only three days, which I hope to reduce further if I can. This is my number one swap because global meat production is a significant cause of deforestation, biodiversity loss and climate change. Overfishing and destructive fishing methods have led to a mass decline in fish populations and degraded marine ecosystems, depleting vulnerable fish stocks and posing a serious threat to the people that depend on them as a food source and livelihood.
I now spend less money on food and can make better choices on buying local, sustainable meat and fish. For more information on sustainable seafood in our region, please check out Great Solent Seafood.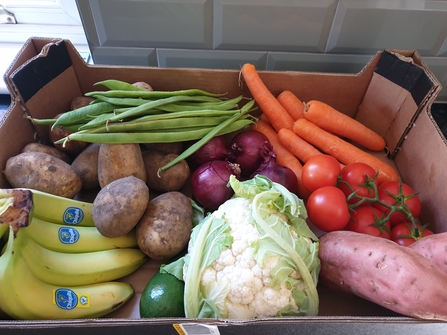 #2 Swapping from plastic-based period products to reusable items
I started to notice the amount of waste that is associated with periods and wanted to change this. After some research, I found several reusable or plastic-free products available, but what I also discovered was the shocking truth of the impact period plastic has on the environment. I started following Ella Daish and Surfers against Sewage on social media and found out that period plastic is the fifth most common item to be found washed up on our beaches. One item can take up to 500 years to decompose and, once they eventually start to break down, the pieces can be digested by marine life.
#3 Swapping from other single-use plastics to reusable products
Plastic kills marine life and has a detrimental effect on marine ecosystems. The more demand there is for reusable, sustainable products, the more available and accessible they will become. Here are a few changes I have made:
Buying loose fruit and veg instead of pre-packaged. I now pick up mine from the local veg stall and collect them in a reusable box
Swapping cling film and plastic food bags for an eco-friendly alternative such as beeswax food wraps or glass storage containers
In the bathroom, I have switched plastic-wrapped toiletries for plastic-free alternatives, such as organic soap and shampoo bars. I use a bamboo toothbrush instead of plastic. My favourite swap has been replacing cotton wool pads with washable reusable ones
The possibilities are endless, and it is quite addictive once you get going.
#4 Litter Picking
I walk my dog every weekend along the Solent's beaches and sadly there is always litter to be found. Instead of walking past it, I now try to take gloves and a bag to litter pick as I walk along. The best thing is - I get more exercise as I compete with my partner to collect the most litter. A win for me and a win for the environment. Picking up litter should always be done with appropriate protective equipment.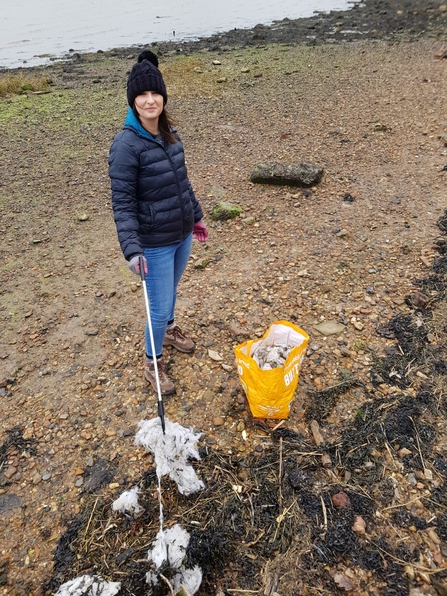 Positive change starts with positive thoughts and an understanding of the reasons why change is important. None of my swaps so far have been ground-breaking or original, but the point is that I stood up and did it. It's important to remember that not all swaps will be accessible for everyone and sustainability is also about being sustainable for you. But if every person makes one positive change, then collectively we can make a big difference to our combined futures. Now is the time to get innovating and to have fun finding ways to lead a more sustainable lifestyle.
What can you do?
Many thanks to Charlotte for sharing her inspirational story with us! If you'd like to join her in making a difference for our marine wildlife, why not consider becoming a Marine Champion too? There are several different roles and you'll receive all the training and support you need.