Thanks to a generous donation from The National Lottery Community Fund and match funding from the Nineveh Charitable Trust, the Woodland Therapy project seeks to use the natural environment to promote mental health and well-being using the Forest School approach. It complements mainstream mental health provision by building self-esteem, self-confidence and independence in adults struggling with mental health illnesses.
The sessions are run outdoors at the Bouldner Forest Nature Reserve on the Isle of Wight, with participants taking part in nature based activities. These sessions offer a fantastic opportunity to experience the benefits of nature on our mental health.
Nature and mental health
A two year pilot of the Project funded by Isle of Wight Council Public Health Team, found that time and activities in nature helped adults with mental health issues while reducing their need for more formal health services.
Thanks to a generous grant from The National Lottery Community Fund, The Woodland Therapy project is being expanded over the next four years. Among the plans over the coming years are training current participants to get involved in running future sessions and help others facing similar difficulties.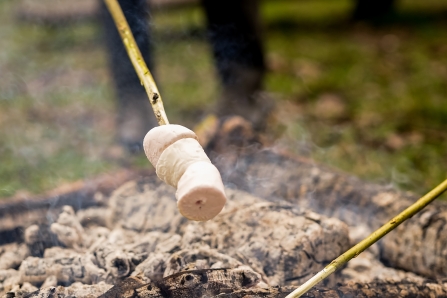 What to expect at a Woodland Therapy Session
Sessions are run in small, supervised groups and participants are involved in a variety of nature based activities such as:
Green woodworking
Nature and craft activities
Feeding the birds
Building camp fires
Cooking and sharing an outdoor lunch
Those who are not feeling up to socialising can relax by the campfire or take walk in the forest or on the beach.
Woodland therapy is an absolute must for me every week. As soon as I get to Bouldnor my head goes quiet, a total positive extreme to the chaos that usually reigns. Nothing is expected of you, nor are you judged by your mental illness. It's great to be treated as an equal.
How does Woodland Therapy help those that attend?
People join Woodland Therapy for a number of reasons and everyone will get something different from it. Here are some common benefits:
Reduce stress level
Reduce depression
Improve self esteem
Provide the opportunity to meet people and reduce social isolation
Improve wellbeing and mental health
Increasing skills and building confidence
Build up resilience