We manage land for wildlife
Nature knows no boundaries
We work with farmers, government and other landowners to create joined up spaces for wildlife.
From wildflower meadows to ancient woods, heaths to chalk downland, we are improving land for wildlife by building partnerships, delivering projects and providing advice and consultancy to others.
Every year we advise on the management of over 15,000 hectares of land across our two counties. This is 6 times the amount of land that we directly manage.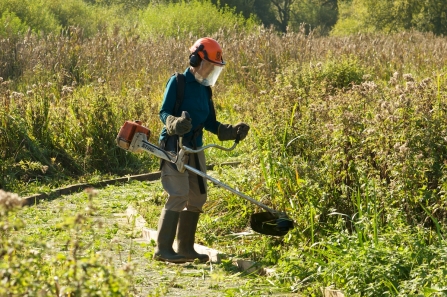 We manage land across our two counties
Including more than 50 nature reserves. These sites are precious wildlife havens and need to be looked after carefully to make sure they are maintained and improved, as well as safely accessible for visitors.
The land in our care includes internationally important chalk rivers, incredible wetlands and coastlines, heathlands, ancient woodland and species-rich grassland.
Find a nature reserve near you
Part of the bigger picture – creating Living Landscapes
Wildlife needs space. The nature reserves we manage are precious wildlife havens, alive with plants, birds, mammals and insects. But alone, they're not enough to ensure that our wildlife survives and flourishes into the future.
The wider landscape surrounding these sites can be unwelcoming to wildlife.  Farmland, towns and cities, busy roads and railways can all present barriers for wildlife trying to move between safe spaces.
However, Wildlife Trusts across the UK are working with partners to join the dots – restoring, recreating and reconnecting isolated habitats – creating 'Living Landscapes' and Living Seas'.  Together we are building a growing Nature Recovery Network. 
Our work with partners
Ten years of partnership with the Ministry of Defence

This breath-taking landscape is home to internationally important birds and dramatic heathland, as well as Army troops in training.

We have been working with the Ministry of Defence since 2007, helping them to manage their training grounds in the north of Hampshire so that the area can support a fantastic array of wildlife.

Cattle can be seen grazing these large tracts of land, helping our reserves staff and brilliant volunteers to maintain the heathland, wetland and grassland habitats and support species such as green tiger beetle, woodlark, black darter dragonfly and marsh clubmoss.
Catchment Sensitive Farming on the Isle of Wight

© Lucy Temple

We're working with Isle of Wight farmers to protect watercourses from pollution and create vibrant habitats for local wildlife, thanks to the support of the Environment Agency and Natural England.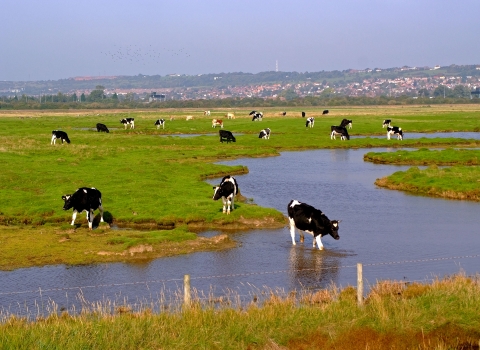 Conservation Grazing
We have cattle and sheep that help us to naturally and sensitively manage our own land and that of landowners we work with.
Conservation grazing is a traditional form of habit management that has helped shape the landscapes of Hampshire and the Isle of Wight over hundreds of years.
Find out more