The water vole is a much-loved British mammal better known as 'Ratty' in the children's classic The Wind in the Willows. Unfortunately, the future of this charming riverside creature is in peril; the water vole needs urgent help to survive in the UK.
Water voles have suffered huge declines as a result of habitat loss, pollution of waterways, industrialisation of agriculture, housing development and predation by American mink which were brought to the UK for fur farming. Once a regular sight in ditches, streams and rivers across the UK, water voles are now absent from much of the country.
Water voles are a vital part of river ecosystems. Their burrowing, feeding and movements help to create conditions for other animals and plants to thrive - a bit like beavers do, but on a much smaller scale. The Wildlife Trusts and many other organisations are working hard to keep water voles in our rivers and streams and restore them to places where they've been lost.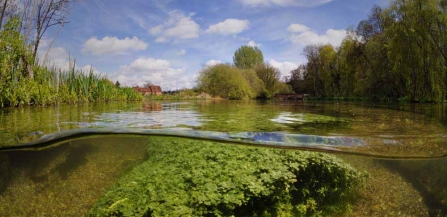 Finding where water voles still thrive
Surveying the distribution of water voles is essential to securing their survival. At Hampshire & Isle of Wight Wildlife Trust we led on collating and mapping data from across the country about where water voles are, through the National Water Vole Database and Mapping Project.
It was first established in January 2008 to collate available water vole data to:
Assess population and distribution trends;
Create a geographic information system (GIS) for water voles to support conservation measures and enable more strategic working at local, regional and national levels; and,
Report against national biodiversity action plan (BAP) targets.
Analysis of the data collected over ten years to 2017 revealed that water vole distribution declined dramatically, by 30% across England and Wales. While the new analysis revealed a slight increase in distribution in recent years – thanks to some successful conservation efforts by The Wildlife Trusts and others – the full data covering the whole ten years paints a bleak picture. The updated report can be downloaded in two parts - report and maps.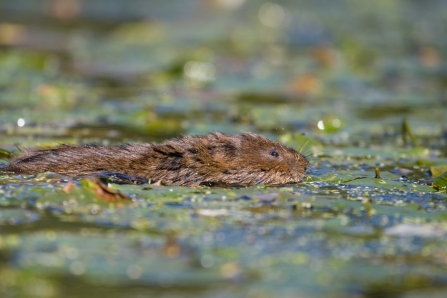 Returning Ratty to our rivers
The Meon Valley Water Vole Project is the only project of its type to have ever taken place in Hampshire. Led by the South Downs National Park Authority (SDNPA) and the Meon Valley Partnership, with the support of the Wildlife Trust, it's also the UK's largest water vole reintroduction within a river valley.
Launched in 2013, the project saw 2,548 water voles released within the Meon Valley, including two areas of land owned by the Wildlife Trust: St Clair's Meadow near Soberton, and Upper Titchfield Haven near Fareham. These charismatic rodents are doing very well in their new home - the latest surveys show that water voles are now established on the river and doing well.
Government action needed
As well as local reintroduction projects, The Wildlife Trusts are also calling for:
Government and Local Authorities to enable the creation of a Nature Recovery Network, as set out in the Government's 25 Year Plan for the Environment. A Nature Recovery Network should be underpinned by a new Environment Act to protect, link and create areas of habitat which help wildlife move and spread out, benefitting water voles and a range of other wildlife. Funding should be increased to expand water vole conservation efforts including for landscape-scale restoration schemes.
Landowners to manage river bank habitat sympathetically to help water voles, e.g. provide generous buffer strips to provide shelter and feeding areas; create soft edges to river banks for water voles to create burrows in, and avoid using heavy machinery close to the edge of watercourses.
People to find out about opportunities to help survey water voles or manage riverside habitat with local Wildlife Trusts and other groups involved in water vole conservation.
Support water voles
Together we can continue to protect and restore wild places for this iconic species. Help save water voles and other species across our counties by donating to our conservation work.
News on our work