Working with farmers around the Wallop Brook
In an innovative new project, a group of 19 West Hampshire farmers are not only producing food but taking action for better wildlife habitats on a landscape scale and benefiting everyone who lives and works in the area.
Farmers coming together
A group of 19 farmers in west Hampshire are working together to improve the natural environment across 4550 hectares of farmland in the Wallop Brook river catchment area.
The Wallop Brook farmers have received funding from DEFRA as part of the Countryside Stewardship Facilitation Fund. This funding will allow the farmers to work with an experienced conservation expert and farm advisor from Hampshire & Isle of Wight Wildlife Trust, to find the best ways to deliver environmental improvements on their land. By coming together to manage the whole catchment from top to bottom, they can look after their natural assets and help make their farms more sustainable.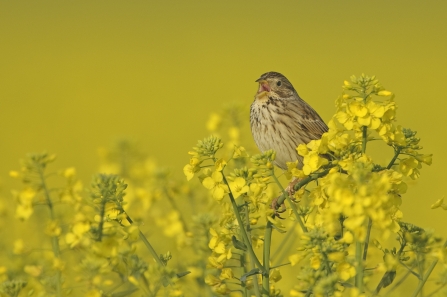 Helping birds
Local farmland is home for nationally rare species like the corn bunting, just one of the species that is being recorded during bird surveys taking place across the area. By providing more nesting habitat and year round food and shelter, Wallop Brook farmers hope to help farmland birds thrive.
Working with the Hawk Conservancy Trust, farms are putting up barn owl boxes across the area and the chicks will be carefully monitored to measure success
Improving and creating freshwater habitat
Wallop Brook Farmers are taking particular interest in the wildlife that inhabits the brook, such as wild brown trout and fresh water invertebrates. By working together as farmers managing the whole catchment from top to bottom, the brook and its wildlife will be protected.
Climate change is putting pressure on freshwater systems. On hot days rivers can become too warm. The Test & Itchen Catchment Partnership is helping Wallop Brook Farmers identify suitable locations for tree planting which will help shade the brook.
New ponds like the one at Broughton Water Buffalo quickly attract a host of species including water boatmen, damselflies and dragonflies, frogs and newts. They provide drinking water for birds and mammals and homes for insects and other invertebrate species.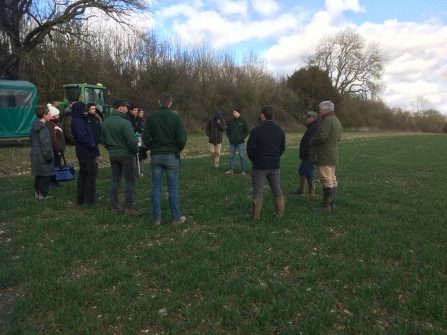 Making space and improving soils for wildlife
Field edges are important places for wild flowers associated with arable crops - and many of these plants are very rare. Wallop Brook Farmers are receiving training from Plantlife on how to manage for these special plants. Not only are they valuable in their own right but they support pollinating insects and invertebrate food for farmland birds. Specially sown mixes used across the landscape provide a network of wildlife habitat as well as a burst of colour in the spring and summer.
Getting soil conditions right is fundamental to producing healthy, profitable  crops and ensuring clean water. Wallop Brook Farmers are working with Soilbiolab to learn more about soil management with a particular focus on the soil organisms, so important in maintaining fertility, structure, drainage, and aeration of soil.
Connecting up the landscape
All this work will help connect up existing wildlife-rich areas, such as our Broughton Down Nature Reserve. Many of the wild flowers and butterflies which once would have been common across the Wallop Brook landscape are found on this chalk downland reserve. It acts as an important reservoir for wildlife which can disperse across the surrounding farmland when conditions are right
About the project
Wallop Brook Farmers is one of 98 groups working across 450,000 hectares of land in England to deliver landscape-scale measures for wildlife, water management and the historic environment.
The scheme is funded by the European Agricultural Fund for Rural Development (EAFRD) and is part of the Rural Development Programme for England (RDPE)
For more details, or to get involved, please contact Alison Cross on 01256 381017, 07917 616693, or Alison.cross@hiwwt.org.uk.