New Seabin installed in Lymington Harbour
Hampshire & Isle of Wight Wildlife Trust have installed a new Seabin at Lymington Harbour.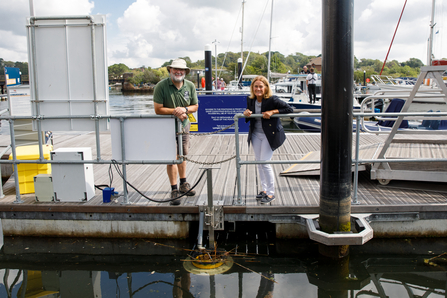 The Seabin will help tackle marine litter in the Solent and was launched as part of the Trust's National Marine Week celebrations. The Seabin and interpretation panel will engage the public with the issue of marine plastic pollution and the impact this has on our marine life.
A Seabin is an award-winning piece of technology that helps remove litter from the marine environment. It sits in the water, attached to a structure like a pontoon, and floats up and down with the tide. It sucks in water from the surface and into an internal catch bag. Litter is stored inside and water is pumped back out. The device can catch a wide range of items from large plastic bottles to microplastics just 2mm in length. A single Seabin can collect over one tonne of litter each year – the equivalent of 50,000 plastic bottles or 40,000 drink cans.
This Seabin has been funded as part of the Trust's marine project, Secrets of the Solent, which is supported by the National Lottery Heritage Fund. Each Seabin they have installed (this is the third in the Solent) is accompanied by an information board explaining the technology and its environmental benefits. The machine will be maintained by Lymington Harbour staff.
Dr Tim Ferrero, Senior Marine Biologist at Hampshire & Isle of Wight Wildlife Trust commented:
"We're thrilled to have played our part in this Seabin installation through our wonderful 'Secrets of the Solent' project. Seabins help us all to tackle the global problem of plastics in the environment both by collecting litter that is already harming our seas and by raising awareness about the issue. Hopefully when people see the Seabin and the plastic it collects, they will be motivated to take steps toward reducing their own use of disposable plastics and determined to make every effort to recycle or dispose of them responsibly."
Jane Challener, Lymington Harbour Commissioner and Chair for the Environment Committee said:
"Lymington Harbour Commission is delighted to be able to support this initiative by Hampshire & Isle of Wight Wildlife Trust by installing and maintaining this Seabin. The Seabin will not only remove plastic bags from the water but have the benefits of removing even tiny microplastics. Lymington Harbour works closely with many local groups to protect the environment. Together with the RSPB and the Trust we have recently installed nesting platforms for little terns on the boulder wave barriers in the river to encourage them to breed.
We are pleased that the Seabin will serve as a visual reminder to all harbour users of the need to take extra care of their own litter, and we look forwards to reporting in the future on the amount and variety of litter retrieved from it."
Things are not going swimmingly at sea. The latest figures show a dramatic decline in world ocean health and a significant reason for this is the vast amount of plastic pollution flooding our waterways. It is estimated that 15 million tonnes of plastic enter the world's oceans every year and this figure is projected to almost triple by 2030. It may be versatile and incredibly useful, but plastic never decomposes - it just breaks down into smaller pieces. The resulting microplastics contain toxins that can be passed on to the animals that eat them and, in turn, us. By eradicating our use of unnecessary plastic - like single use drinks bottles, coffee cups and plastic bags - and switching to reusable alternatives, we can all take the first steps to protect our seas.