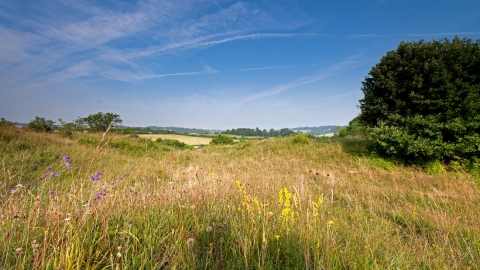 The perfect location for a picturesque summer walk
Know before you go
Entry fee
Donations welcome
Parking information
Parking available Selborne Village, 1 mile to the northwest of the nature reserve
Grazing animals
Cattle from mid summer, sheep in autumn.
Walking trails
Paths are unsurfaced and there is some bare chalk that is slippery when wet. Very steep slopes amongst the pits. There are bridle gates and kissing gates at the entrances to the central pits. Please keep to the paths to avoid trampling the plants.
Access
GU34 3JR takes you to the Selborne Arms, Selborne.
From Selborne Arms in the village, take the lane Selborne Commons. As lane bends right, take the footpath to footpath junction. Turn left, then take the lane opposite and turn left into the bridleway.
Bus stop: Selborne Arms, Selborne (1 1/2 miles). Alton to Petersfield route (Stagecoach) every 2 hours.
Contact the Trust for disabled access information
When to visit
Opening times
Open at all times
Best time to visit
Visit in summer to see a variety of orchids and butterflies
About the reserve
Once the site of medieval chalk workings, this 20 hectare nature reserve is now carpeted with an array of beautiful chalk downland flowers every spring and summer, including juniper and pyramidal orchid. The vibrant flowers and the butterflies that feed on them create an oasis of colour among the surrounding fields of crops. A walk through this unusual and historic landscape is always a fascinating experience with its ridges, banks and hollows that create little niches for all kinds of plants and animals.
Environmental designation
Site of Special Scientific Interest (SSSI)