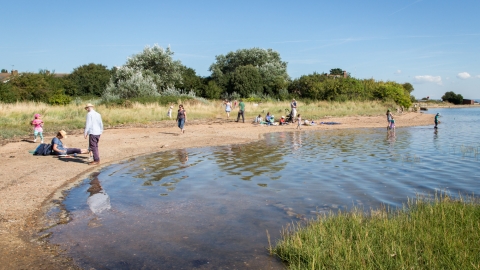 Milton Locks Nature Reserve
A green oasis in the heart of Portsmouth
Know before you go
Entry fee
Donations welcome
Parking information
Car park adjacent to the Thatched House pub. Further parking is available opposite The Old Oyster house pub.
Walking trails
Flat, unsurfaced path but fairly smooth, quite narrow
Access
Contact the Trust for disabled access information
When to visit
Opening times
Open at all times
Best time to visit
Visit during the summer to see a range of insects and butterflies
About the reserve
A small but perfectly formed pocket of wildness, Milton Locks nature reserve is a coastal oasis on the border of Portsmouth's urban sprawl. It's the last natural section of coastline on this on this side of Langstone Harbour and is packed full of different habitats and wildlife.
The small wood provides much needed shelter to birds such as starlings and house sparrows, and the nectar-rich flowers that grow in the dappled sunlight provide food for painted lady and small copper butterflies. The path snakes through tall grass, which buzzes with an orchestra of grasshoppers and crickets, before opening out to the shoreline. 
Depending on the tide, you might be lucky enough to spot tiny fish in the shallows, crabs scuttling between clumps of seaweed, or oystercatchers foraging on the mudflats. And don't forget to look out saltmarsh specialist plants, like sea purslane, sea aster and common saltmarsh-grass.