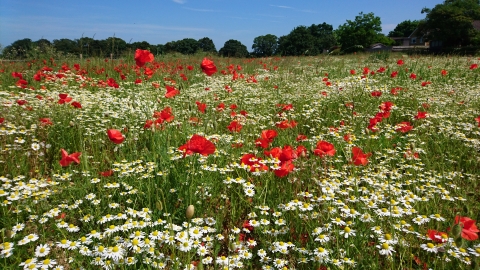 Barton Meadows Nature Reserve
The perfect spot for a relaxing walk with the family
Know before you go
Entry fee
Donations welcome
Parking information
No public parking
Walking trails
There is a 2.75 km circular path around the site. The path offers great views across the landscape.
Access
There is an accessible 2.75 km circular path around the perimeter of the site, but the meadows themselves are not accessible. 
When to visit
Opening times
Open at all times.
Best time to visit
During the summer when the wildflowers are in bloom.
About the reserve
This nature reserve sits proudly in the heart of Winchester and consists of two large meadows surrounded by areas of rough grassland, hedgerow and trees.
Barton Meadows Nature Reserve was created during the planning process as part of the Kings Barton housing development and represents a significant achievement for the Wildlife Trusts. We are creating new habitats for wildlife displaced by the development and a quiet recreation space for local people. Extensive arable land has been converted into wildflower meadows with formerly widespread species such as birdsfoot trefoil, meadow buttercup, oxeye daisy and knapweed starting to establish.
Skylarks, yellowhammers and linnets can be seen across the reserve, as well as butterflies such as marbled white. The reserve now provides a good habitat for pollinating insects as well as feeding and nesting habitats for birds.
A circular path around the reserve and a series of locally-produced benches offer excellent views across the rolling landscape.
Please note:
Over the winter months we will be carrying out tree work on the copses at Barton Meadows.
Many of the trees are becoming hazardous. Management will make the area safe whilst creating new habitat for wildlife and protecting high value features where possible. The creation of monoliths (standing deadwood) will provide perfect habitat for invertebrates and bats. We have ensured that felling of trees will be kept to a minimum in order to retain as much habitat as possible. Any branches will be stacked nearby, in order to create additional habitat for sheltering birds, reptiles and mammals.
Where necessary, remaining trees will undergo crown cleaning and canopy reduction. This involves removing dead and decaying branches to eliminate the risk of them falling. Reducing the size of the crown and the weight of the canopy reduces the pressure on the tree, making it more stable.
We are carrying out tree works during the autumn and winter in order to avoid disturbing nesting birds. Prior to any work commencing, all trees will be checked for likely presence and suitability for bats by a qualified ecologist.
For further information about Ash Dieback, please see here.
Habitat