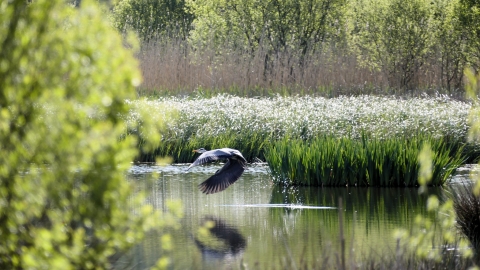 Fishlake Meadows Nature Reserve
A spectacular wetland and a birder's paradise
Know before you go
Entry fee
Donations welcome
Parking information
The visitor car park is open 8am-6pm.
Access
Parking is available in Romsey Town. From there follow the canal path to the nature reserve. Disabled access is very limited at present.
When to visit
Opening times
Open at all times.

The visitor car park is open 8am-6pm.

From Fishlake Meadows Road, turn into Oxlease Meadows through the main entrance to the housing estate. The car park is located at the end of the first left turning, after entering Oxlease Meadows. Please be aware that the road turning is not yet signposted to the reserve but called "NOS. 3-11 ODDS". Once you turn down here, follow this short road round to the right and the car park is on the left through the height barrier.

It is open daily, barring closure for management purposes. Alternatively park in Romsey Town and walk up the canal path.
Best time to visit
Visit in winter to see wildfowl, visiting marsh harriers and majestic great white egrets. Spring brings reed and sedge warblers as well as a great variety of migrant birds. In summer you'll see dragonflies, fen vegetation and marsh orchids.
About the reserve
Fishlake Meadows nature reserve is a spectacular wetland, home to hunting ospreys, elusive bitterns, migratory cuckoos and murmurating starlings. It also supports other species like otters, water voles, 24 species of dragonfly and damselfly, and an impressive variety of plants. It really is the ultimate destination for all nature lovers.
The unique habitats of Fishlake Meadows established themselves after farming of the land ceased over the last two decades. Unusually, the reserve now boasts a mix of floodplain habitats rarely seen in our chalk river valleys.
NB. Work will be taking place to pollard poplar trees on the Reserve. Please see here for further information.  
Habitat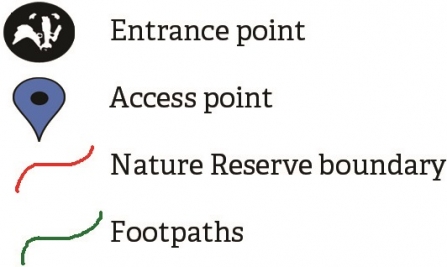 Map Key

Fishlake Meadows Nature Reserve is managed on behalf of Test Valley Borough Council. 
Frequently Asked Questions
What progress has been made so far?

As of August 2018, we're pleased to have made some significant progress improving the nature reserve for wildlife and visitors alike.

With the help of our volunteers and partners, visitors will now be able to enjoy new facilities including two viewing platforms along the barge canal with vistas across the site, freshly-surfaced and accessible paths, and a pathway and boardwalk to new viewing screens to watch the wildlife in the heart of the nature reserve.
What is planned next for the nature reserve?

We have much more work to do improving the habitat and accessibility across the site, and further information and signage on site to help visitors learn more about the wildlife that makes it so special.

We hope to share more about our plans in the coming months.
How can I get involved in or support the nature reserve?

We have a brilliant team of local volunteers who help with everything from practical conservation to volunteer wardening and cattle lookering. If you would like to know more, please contact the reserves officer listed above.
Can I bring my dog to Fishlake Meadows nature reserve?

We welcome responsible dog walkers along the canal path and on the west-east path across the site.

However dogs are not permitted on the new permissive path that leads to the new central viewing areas, because of the disturbance this would cause to the wildlife there.

As with all wildlife havens, we ask that visitors keep their dogs under control, and clean up after them.
Can I fly my drone at Fishlake Meadows nature reserve?

In order to avoid disturbing wildlife and other visitors, we ask that drones are not flown across Fishlake Meadows nature reserve.
Can I fish at Fishlake Meadows nature reserve?

Fishing is not appropriate at Fishlake Meadows nature reserve, and neither we nor Test Valley Borough Council has granted permission to fish here since taking occupancy.

We work with a number of fisheries and angling clubs on land we manage elsewhere - however our priorities at Fishlake Meadows presently are access and habitat improvements. In the future we will look at the suitability and practicality of managing fishing here.
News from Fishlake Meadows
Forthcoming events at Fishlake Meadows