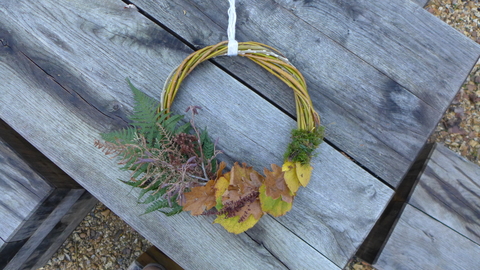 Decorate a Willow Wreath
Location:
Ellingham Drove,
Ringwood,
Hampshire,
BH24 3PJ
Self-led Christmas craft activity - create a natural decoration in time for Christmas!
About the event
Pick up a willow wreath hoop from the table by the Welcome Hut and set off on the mile long circular 'Wild Walk' loop in search of natural items to decorate it with - you could use leaves, bracken, grasses, seed heads or twigs.
Bundles of wool are available on the tree next to the table, these contain six short pieces for tying items on to the wreath (you may also be able to tuck items in between the pieces of willow) and one longer piece to use as a hanging loop. To cover the whole of the loop you will need more than one bundle - we are happy to take back anything you don't use!
Buckets containing additional natural materials will be available by the table and you are welcome to take two or three items to add to your wreath if you wish.
Alternatively you are welcome to make your donation for the wreath hoop and take it away to decorate with items from your garden instead.
After you have finished with your wreath, the wool can be re-used and the decorations on it can be put back outside in the garden or compost bin where they will break down. The willow wreath will dry and change colour, but if stored somewhere dry it will last and could be used again next year and the year after... 
Willow wreaths will be available whilst stocks last. Please collect responsibly and have fun!
Booking
Suggested donation
Suggested donation of £3 - £5 per wreath: can be made by cash in the green donations box on the fence in front of the Education Centre, or by card using the contactless pay terminal by the Welcome Hut.
Suitable for
Families, Adults, Beginners
Know before you go
Dogs
Other visitors with dogs may park at Moyles Court & from there walk a circular route via the public footpath along the Dockens Water to the permissive footpath between Ivy Lake & Rockford Lake & back via the Avon Valley Long Distance Footpath.
Mobility
The circular 'Wild Walk' loop is on rolled path gravel and generally accessible for pushchairs and more robust wheelchairs. Unfortunately the boardwalk partway along the loop is currently closed to mobility scooters and large/electric wheelchairs. 
What to bring
Please dress for the weather on the day and wear suitable footwear
Parking information
Please park at the Education Centre