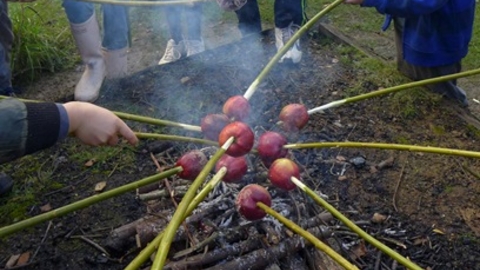 Go Wild...Campfire Tales
Location:
Ellingham Drove,
Ringwood,
Hampshire,
BH24 3PJ
Dress up warmly and settle by the campfire for faerie tales and campfire apple treats...
About the event
Storytelling is a timeless and ageless activity for all ages and what better time to enjoy it than around an October campfire at the beginning of the half-term school holiday?
Join Jim for faerie tales of dragons, bats and, depending on the age and overall wishes of the audience, perhaps the odd spooky tale thrown in for good measure...?
And what's better than listening to a story around the campfire?
Baking a sugar-coated apple on a stick over the fire and then eating it while listening to a story!
Booking
Price
£4 per person
Additional booking information
If you are viewing this page on a mobile phone please book your tickets via Eventbrite by copying and opening this link in your internet browser:
https://www.eventbrite.co.uk/e/go-wildcampfire-tales-tickets-192720812137

Booking is essential.

Tickets are required for each attending child AND adult.

When booking you will be asked to read and agree to our COVID-19 secure guidelines.

The Education Centre remains closed to visitors. The toilets will be available to participants at the beginning & the end of the event if needed and there will be portable toilets and an outdoor handwashing station available throughout.

Suitable for
Families, Children, Adults
Know before you go
Dogs
Other visitors with dogs may park at Moyles Court & from there walk a circular route via the public footpath along the Dockens Water to the permissive footpath between Ivy Lake & Rockford Lake & back via the Avon Valley Long Distance Footpath.
Wheelchair access
Please enquire on booking
What to bring
Please dress warmly as you will be sitting throughout most of this activity and there will not be enough room for everyone to huddle up close to the fire and still be safe - we'd rather that you were too hot and had to take off a layer or two than you sit there shivering and not enjoying the stories! If it is raining we will hold the event around a fire under our covered outdoor classroom area.
There is sufficient log seating for everyone - but it is log seating so if you or your family would be more comfortable on a camping chair or a blanket/cushion do feel free to bring them with you.
There will be opportunity to bake (and eat!) a sugar coated apple on a stick over the fire. We will not be cooking anything else so please do not bring your own campfire treats to cook, but do please bring your own drink/water bottles.