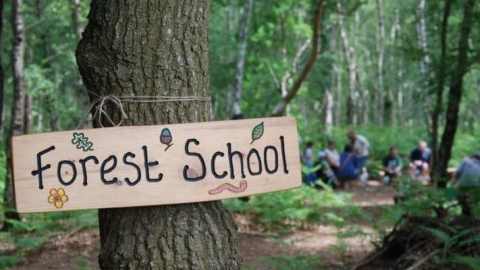 Forest School Training Level 3 Hampshire
Location:
Sopwith Way,
Swanwick,
Hampshire,
SO31 7AY
FULLY BOOKED. Forest School Level 3 training course will enable you to develop and deliver a Forest School Programme for any age group.
About the event
This LASER Level 3 Certificate for Forest School Leaders (RQF) is a nationally recognised, in depth training course.
Training Days: 11th, 12th, 13th,19th and 20th Oct 2021 (9.30 to 4.30pm)
2 Forest School First Aid course days: 20th & 21st November 2021(9:00-6pm)
3 Portfolio Days: 17th Nov 2021 , 9th Feb 2022 and 6th Apr 2022 (9.30 to 4:30pm)
2 Skills Days: Sat 5th Mar 2022 (8.30 to 5.00pm) and Sat 12th Mar 2022 (8:30 to 5:00pm)
Forest School is an inspirational process that offers children, young people and adults of all abilities regular opportunities to gain confidence and raise self-worth through a series of hands-on learning experiences in school grounds and local woodlands.
Comprising an exciting combination of practical outdoor skills and child development theory our Forest School Level 3 training is taught with the ethos behind the Forest School approach to child led learning.
The Forest School Level 3 course is run on Forest School principles and will prepare you to become a Forest School Leader. The Level 3 course will enable you to set up your own Forest School including delivering, planning and monitoring all aspects of a Forest School programme. All our Forest School courses are delivered on our beautiful woodland reserves in Hampshire and the Isle of Wight by our qualified, professional staff.
For initial queries on Forest School training, please read through our pre-booking information.
This course will take place at Swanwick Lakes Nature Reserve situated between Southampton and Fareham in Hampshire.
To achieve the Level 3 certificate you will need to complete all of the following:
Five days of training in theory and practice to cover:
Planning a Forest School programme
Learning and development at a Forest School programme
Practical skills for a Forest School programme
Forest School programmes and the woodland environment
Delivery of a Forest School programme
* 2 skills days to develop and assess practical skills and to discuss progress.
*2 Forest School First Aid (including Paediatric Fist Aid) Training days.
* 3 portfolio days to assist you with course work and support you while developing your Forest School sessions.
* Assessment of delivery at one of 6 Forest School sessions to be planned and delivered by you.
* A coursework portfolio which should be completed within 12 months of the start of the course.
All our Forest School Level 3 trainees on this course will be eligible for 12 months discounted membership of the Forest School Association, the professional body for Forest School practitioners.
PLEASE NOTE: we will be keeping up to date with the latest Government guidance on Covid -19 measures and will be making changes to our risk assessments and the course delivery to ensure risks are minimised. We will provide a briefing before the course start date to ensure you understand the expectations and measures in place and give you an opportunity to ask any questions. Should it be necessary to cancel the course due to changes in the Government advice, we will contact you with the option to postpone your course or receive a full refund.
Before booking, please ensure you read the Course Booking - Terms and conditions
Should current Governmental Advice regarding the Covid-19 pandemic require that the course be cancelled or rescheduled, participants will receive a full refund.
If you cancel at any time in the 8 weeks before the course start you will risk losing the full payment for the course. If we are able to fill the space we may be able to offer a partial refund of your payment minus 10% administration fee. If you cancel during the course we are unable to offer any refund.
Entry Criteria
Participants should be over 21 and hold a qualification at Level 2 or above in teaching, pre-school education, youth work, or as a countryside ranger, and have significant experience of working with young people.
All participants will hold a Forest School First Aid certificate by the end of the course. This training has been integrated into the course and is a 16-hour Forest School First Aid certificate with a Level 3 Paediatric First Aid Certificate.
Please be aware that support for planning and delivering Forest School sessions and time to put together the portfolio are particularly important with this training. We recommend any supporter/ line manager reads the pre-booking information before you complete the booking and application process.
You will be contacted by one of the Course Tutors and your course fee will be fully refunded should you not meet the course entry criteria. Please read our pre-booking information for further details.
Covid Secure Mission Statement for groups
Hampshire & Isle of Wight Wildlife Trust continues to take steps to help limit the spread of Covid-19. We are keeping the situation under review, and so there may be the need to change your booking at short notice. The below statement outlines what to expect from us, and what we expect from you. If you do not adhere to the guidelines outlined below, we reserve the right to stop your visit.
What to expect from us: 
We will follow the latest government guidelines- your visit could be cancelled or postponed at short notice if guidance changes 
We will always remain 2 metres apart from you
We will provide you with access to hand washing facilities whilst on site
There will be enough equipment for your group to maintain social distancing (the Trust is practicing 2 metres, not 1 metre plus). We will clean all equipment before and after your visit 
The activities within your session may be adapted to minimise equipment, this will be discussed at an online briefing before the course start date.
We will continue to provide first aid and emergency care for you. In an emergency we may not be able to maintain social distancing, staff providing the first aid will wear appropriate PPE
We will not be providing snacks or drinks. Participants will need to bring their own.
If one of our staff delivering on your visit becomes unwell within 2 weeks we will inform you 
What we expect from you: 
You will follow the latest government guidelines 
You will remain 2 metres apart from our staff and group participants
You and your group will practice frequent hand washing 
You remain responsible for arranging your own travel
If you become unwell within 2 weeks you will inform us by contacting the member of staff who booked your session.
Cleaning
All equipment used for the sessions will be cleaned before and after use. Each individual or bubble will have their own set of equipment which will not be used again until it has been washed and dried.
Tutor
Dawn Preston – Education Officer
Dawn O'Malley – Training and Outreach Officer
Course Reviews
Sarah, Boscombe
Doing my Forest School Level 3 with Hampshire & IOW Wildlife Trust was fantastic. The training was delivered in such a magical location with trainers who were really knowledgeable and experienced but more importantly, friendly, approachable and so passionate about Forest School. I left with a spring in my step, wood smoke in my hair, loads of new ideas and an eagerness and confidence to begin delivering Forest School myself.
Steve, Penn
The instructors were absolutely fantastic both in terms of their knowledge and skills as well as in their delivery style.
Daniel, Gosport
We had a chance to apply skills, develop and then re-apply them in a managed and supportive environment over consecutive days. The course, in parts, exceeded my expectations.
Carine, Basingstoke
Thank you for an *amazing* experience and all your hard but seamless work in providing the course.
Victoria, Christchurch
I just wanted to say a huge thankful for a wonderful weekend last weekend and, a really great training course. I had no idea I would learn as much as I have, let alone run sessions successfully. One day, even if I can only be a fraction as good as you both as practitioners that would be amazing.
Know before you go
Dogs
Dogs are sometimes required to be on a lead if schools groups are visiting the site.