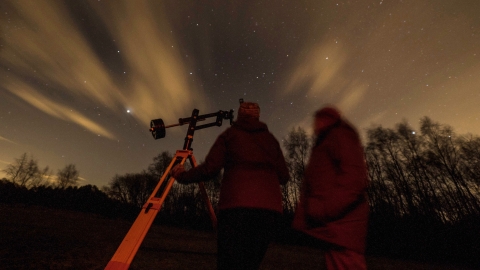 Astronomy for Absolute Beginners
Location:
Ellingham Drove,
Ringwood,
Hampshire,
BH24 3PJ
Book
Would you like to learn about the night sky, recognising constellations, understanding the solar system and discovering deep space?
About the event
This 4 week course is suitable for absolute beginners and will open up your eyes to the amazing night sky as well as teach you how to use the equipment needed to see what is not visible with the naked eye.
Taught by Stephen Tonkin of Fordingbridge Astronomers, if the night is clear you will have the opportunity each week to put what you have learnt into practice with an observation session, of about 1 hour (it gets a little chilly after that!).  
The course is running on Wednesdays 15th, 22nd and 29th January and 5th February 2020.
Booking essential via Eventbrite
Course Structure 
Week 1:  What is Astronomy? An introduction to help you get started on your astronomy adventure and make sense of the night sky including constellations. 
Week 2: Observing Equipment Helping you understand the characteristics of different aids as well as how to choose and set up your telescope. We will also look at the value of binoculars for astronomy.
Week 3: Deep Space This session takes us to deep space and the various classes of deep space objects such as galaxies, clusters and nebulae. You will learn how to observe them and discuss what they teach us about the universe.
Week 4: The Solar System most of us can name some of the objects in the solar system, in this session you will delve deeper and learn not only the various bodies that make up the solar system but also solar system phenomena such as eclipses and meteor showers.
If the sky is cloudy you will have the opportunity to discuss various topics such as Extra-terrestrial Intelligence, the Size and Age of the Universe, the Danger of Asteroid/Comet Impacts on Earth or a subject chosen by the course participants.
Tutor
Stephen Tonkin is an active member of Fordingbridge Astronomers. He has taught astronomy to adults and children for over 30 years and has written books and magazine articles on practical astronomy. He is currently a STEM ambassador with a special brief for astronomy and has a monthly column in BBC Sky at Night magazine, for which he also writes equipment and book reviews.
Booking
Price
£50
Suitable for
Beginners
Know before you go
Wheelchair access
Please enquire before booking.
What to bring
Binoculars and/or telescopes if you have them
Warm outdoor clothing (dress for about 5 or 10 degrees below expected minimum temperature).
Comfortable, sturdy footwear for walking outdoors
Parking information
Please park at the Education centre
Contact us
Jim Day or Tracy Standish