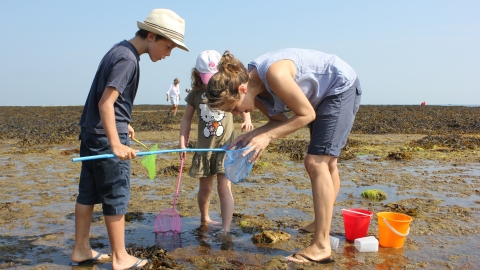 Marine Citizen Science Day
Location:
Empire Room, Royal Victoria Country Park,
Netley Abbey,
SO31 5DQ
Discover how citizen science initiatives are tackling marine issues both locally and nationwide, and find out how you can help protect our marine wildlife.
Know before you go
Parking information
There is parking available at this venue - please bring cash or card to pay.
Contact us
Secrets of the Solent Project Team
This World Oceans Day, join us for a day of inspiring talks, fun activities, and idea sharing on citizen science in our marine environment.
Citizen science is all about bringing people together to tackle large-scale issues, and transforming small actions into big results. Initiatives that use this method pool data collected by many volunteers, which can then be used to inform the work of organisations like the Wildlife Trusts.
This makes citizen science a great way to protect our amazing marine wildlife, and it's never been easier to have a go yourself. Most initiatives don't require any special knowledge, and many can be taken part in while you're already out and about.
At this event, we'll be sharing how citizen science is supporting marine wildlife in the Solent and beyond, and the many ways you can get involved. Joining us on the day will be local, national, and international initiatives including:
Bird Aware Solent – an initiative raising awareness of the birds that winter on the Solent, with the aim of reducing disturbance.
Blue Marine Foundation – a charity dedicated to creating marine reserves and establishing sustainable models of fishing.
CITiZAN - a national project recording and protecting our coastal heritage, from prehistory through to the present day.
Just One Ocean – a charity promoting research and raising awareness about issues affecting our oceans.
Planet Aware – a consultancy working with local communities, businesses, and individuals to address environmental issues.
Surfers Against Sewage – a grassroots movement tackling plastic pollution and protecting our coastlines.
No booking needed - just drop by!
This event forms part of our four-year marine project, Secrets of the Solent. With support from the National Lottery Heritage Fund, this project is celebrating the amazing people and wildlife that share our waters through art, cuisine, citizen science, and more.