The Isle of Wight is known for its miles of beautiful coastline, which is prized by residents and visitors alike. Yet despite its proximity the coast is not a frequent destination for many local children, some of whom who also struggle to learn in a traditional classroom setting.
From 2016-2020 we ran Wildbeach sessions for local children and young people, with the aim of connecting them to their coastal environment. The participants were either under five, home educated, or identified by their primary schools as having additional needs. The sessions were based on the Forest School ethos, meaning they were participant-led and emphasised individual exploration.
Over the four years, numerous children learned how to interact with and appreciate their local coastal environment. They experienced a noticeable boost in self-esteem, self-confidence, and self-expression. Parents and teachers reported a growth in social and emotional skills, the use of which extended beyond the sessions and into other areas of the children's lives.
Wildbeach was part of Down to the Coast, a wider project which conserved nature and heritage across the eastern Isle of Wight. It was made possible by the National Lottery Heritage Fund, who we would like to thank for their support. Huge thanks also to the volunteers who gave so much of their time to the project, enabling us to make it such a great success.
Explore, learn, grow
Following the Forest School ethos, a key aspect of Wildbeach was its participant-led format. While we prepared activities in advance, the children would decide which ones they wanted to do on a given day and how to approach them.
As such, sessions could include scavenger hunts, rockpooling, seaweed safaris, or beach cleans. The children also created a wide variety of things from items they found, such as beach museums, shell necklaces, toy boats, and wind shelters.
No matter what the activity, every opportunity was taken to incorporate learning about the natural world. At the end of each session the participants were encouraged to share what they had achieved or learned, and to play an active role in shaping the next session.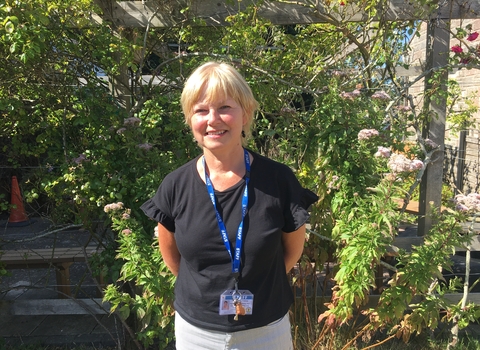 Sheila's story
Sheila is a Higher Level Teaching Assistant and Emotional Literary Support Assistant at St Blasius C of E Primary Academy in Shanklin. Taking part in Wildbeach allowed her to share her love of nature with the children she supports - hear her inspiring story of taking learning from the classroom to the coast.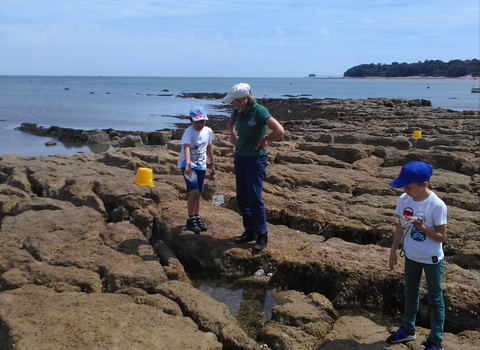 Kelly's story
Kelly works at Hampshire & Isle of Wight Wildlife Trust as their Wildbeach Officer. Her background is in education: "I've worked as a teacher and lecturer, but always with a passion for the outdoors and nature."