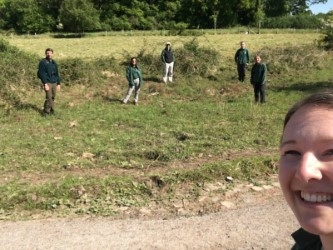 Hi, I'm Sofie, and I am the 8 month trainee Ecologist with HIWWT. This role couldn't have started at a stranger time, but after having a delayed start due to the Covid-19 lockdown I have now enjoyed 3 weeks in my role, and can't wait for a summer in the field enjoying being in nature. Before landing this position I have hopped around various roles and placements types, from carrying out habitat management on wetland and chalk grassland nature reserves to working in an ecological consultancy managing development and habitat creation projects.
I am excited that this role will allow me to visit a wide range of habitats, and learn about the ecology of a wide range of species. On my first outing I was lucky enough to be able to meet my Ecology team on one of our sites which consists of a huge parcel of land that is being re-wilded. Between us all, by the end of this season we will have carried out surveys for butterflies, bumblebees, aquatic invertebrates, dragonflies, breeding birds, and Great Crested Newts! I am really excited to see where this project goes and to watch how the land comes to life over the coming months. What's more, the site has already given me some exciting nature encounters, from handling my first great crested newt, to hearing two nightjar churring in the late hours of a survey. The nightjar encounter was particularly special, of course due to the incredible alien like sound they make, but also due to their decline in the UK, and the fact that they are nocturnal (I won't be hearing them on any of my weekend walks!).
I have also enjoyed learning about how the diversity of aquatic invertebrates is an excellent indicator for freshwater habitat health, plus the number of different ways we can assess for their presence, such as carrying out detailed analysis of the families present, or just having a good old fashioned pond dip!