Reflections on Swanwick, the Education Centre by Di Smith
The education centre arrived in a container! The building was beautiful in its simplicity and I remember a visitor admiring the new centre and remarking 'It's really clever how they've matched the wood on the inside and outside so it looks like it just one log' – that's because it really is!
Building the Education Centre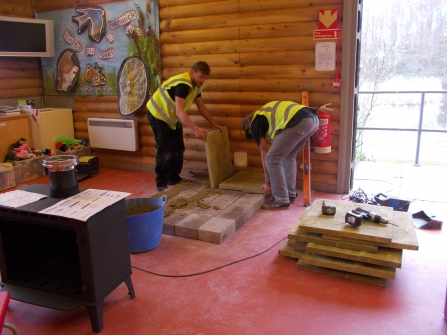 The education centre arrived in a container!  At that time the road had been built and the reserve car park was partially surfaced.  NATS bought the log cabin from Canada – it was built in Canada, then dismantled and sent it across the world.
There were 3 sizes of log (long, medium and short, pre-cut at the end) - it was just like a Lego kit!
There was a step-by-step guide and nothing was left over at the end.  It took about 2 weeks to build but there was a worrying moment when the instructions blew into the lake!  Luckily I was able to fish them out!
The building was beautiful in its simplicity and I remember a visitor admiring the new centre and remarking 'It's really clever how they've matched the wood on the inside and outside so it looks like it just one log' – that's because it really is!
We had to mess about with the design of the centre a little.  In the initial layout, the space allocated for the toilets would've been suitable to grace a 5* hotel but the storage space was just a small cupboard.  We tried to anticipate the future needs of the building and its layout remains relatively unchanged to this day.
In the early days NATS staff had no proper building, so the log cabin (education centre) was used for some of their staff meetings until they got their own building up and running. Every now and then meetings were 'interrupted' by the sight of a great spotted woodpecker on the bird feeders outside the window.
Ninja Turtles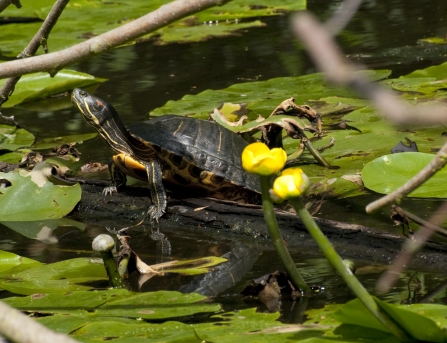 TV series Teenage Mutant Ninja Turtles was very popular in the 1990s and led to people buying terrapins as pets. These terrapins would then quickly outgrow their tank in 6-12months and would be dumped in the countryside – 4 ended up at Swanwick Lake.
One day somebody coming into the centre "Excuse me, do you know there's a turtle in the lake?" I was dubious and went out to investigate and sure enough there was a terrapin there!  This was not what I was expecting and not good news. Terrapins are carnivorous animals and can cause a lot of damage in the wild. They eat everything including bird eggs and can bite off duckling's legs.
There were 4 terrapins in the lakes and it was a huge issue. It became a great press story though - local and national media reported (from Cornwall to Scotland). It developed into a campaign to raise awareness and ask the public to stop dumping terrapins in the wild.
They proved hard to catch – tried everything from nets, specially-built traps, sneaking up on them, even Royal Navy divers attempted to catch them. BBC News attempted to film the capture but failed. Eventually the BBC left a camera with reserve staff to try. In the end they caught footage of a terrapin simply walking into the trap itself!  It was like a comedy sketch.
Setting up the education programme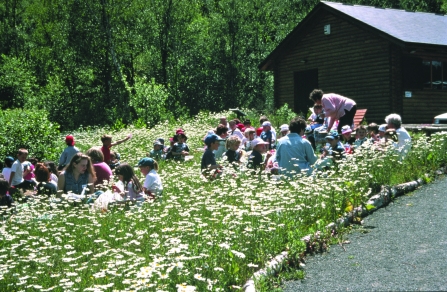 Getting the education programme off the ground was a challenge to start with.  I contacted many local primary and secondary schools and worked with a local network of other sites like Gosport Wildgrounds and Queen Elizabeth Country Park – to promote each other. 
There weren't many opportunities for schools to get out in the field at that time and we wanted to get the message out  'Come to us and we'll help you".
We invited teachers to Swanwick for open evenings and INSET days, which led to schools bringing classes.  One of the schools that attended one of these INSET days was Sarisbury Juniors who still come to reserve regularly today.
However, because I was employed by NATS to provide education as well as look after the reserve, the Trust wasn't able to charge for school courses or visits.  We asked for £10 to cover Hampshire County Council's admin fee - all other providers were charging £60-70 per course.  But we only had 1 or 2 bookings to start with – people thought it was too cheap, and therefore must be low quality!
I had to convince NATS to give us permission to charge.  I told them 'we need to get people here so they can see what we do'.  As soon as the charge increased, the bookings came in with 14-20 attendees.  The income from this was ring-fenced to pay for a seasonal warden for the nature reserve.  There was lots of support from volunteers to help run the education programme and no paid education assistant as there is today.
Five years on the centre won a national award. 
So many magic moments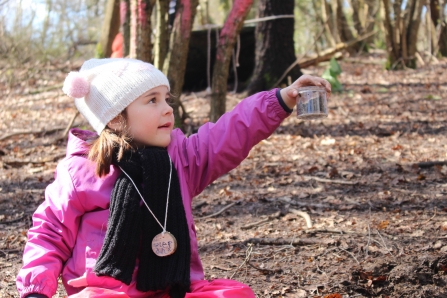 I remember taking a primary school group into the north meadow. I had explained to them how special orchids were and that there used to be many here. I told them the story of the reserve and that there was now just one big oak tree left – jays had been burying acorns and the land had turned into a forest of small trees. The children named the big oak 'the mother tree'.
As we were walking through the meadow to the mother tree, I told the children that they will see orchids and they had to be careful not to tread on them.
Once we got to the tree, one child came up to me and said "We went passed 73 orchids".  She'd counted them and had clearly taken on board how special orchids were!
I also remember a 15 year old from the city saying "It's really lovely here Miss, there's no litter"
There were so many little magical moments like this – moments where you know you've captured a child's imagination.
Another tale was a 'Livingstone' moment, showing the lasting impact of visits to Swanwick. I was canoeing down a remote gorge in central France.  The water level was low and we ran aground; then another canoe did the same, almost beside us. In it were a lady and teenage son. He looked across and said "It's Mrs Smith, isn't it?" I said "Yes, how did you know?" He replied "I came on a school trip from Henry Cort" and his mother added "and I came on your butterfly walk." With that they re-floated and disappeared down the gorge, out of sight.
Finally I must say, it was the most amazing job ever  - with so many many surprises, challenges and delights.  Swanwick is a very special place with many special people.  I'm so pleased to have been part of the last 25 years and wish it and everyone involved today the very best for the future.