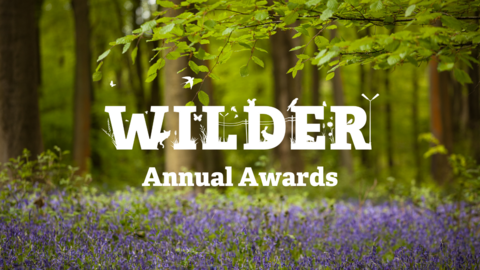 Many people across our two counties are doing remarkable work to help nature recover and create a wilder Hampshire and Isle of Wight. The Wilder Annual Awards will share your achievements with others and celebrate those making a difference for wildlife and the environment.
Every year, we will celebrate the achievements made by individuals, groups, and organisations who are leading the way to nature's recovery. This year's awards will be presented as part of our Big Wild Weekend virtual festival.
If you would like to nominate yourself or someone who you think is deserving of an award, follow the links provided to fill out the online forms. We are committed to ensuring our Wilder Awards reflect and represent the diversity of thoughts, skills, ideas and experience that is present in our communities. We encourage applications from all sections of the community, particularly those underrepresented within the environmental sector, including people from black, Asian, minority Ethnic backgrounds and people with disabilities.
Award Categories
We have a total of nine categories of awards, some we are nominating internally within the Trust and some we'd love for you to nominate yourselves! Expert panels of judges consisting of senior staff members and our Trustees have been selected to make nominations and select winners for each award. 
The award categories are listed below. Those marked with an asterisk (*) are open for public nominations.
Brough Naturalist Award*
Business of the Year Award
Norman Pasley Award for Campaigner of the Year*
Group of the Year Award*
The Champions and Leaders of Positive Action* 
Outstanding Contribution
Wild Card
Wilder School of the Year Award*
COMING IN 2022: Farming with Nature Award
Applications for 2021 are now closed.
How is the Trust working towards a wilder Hampshire and Isle of Wight?